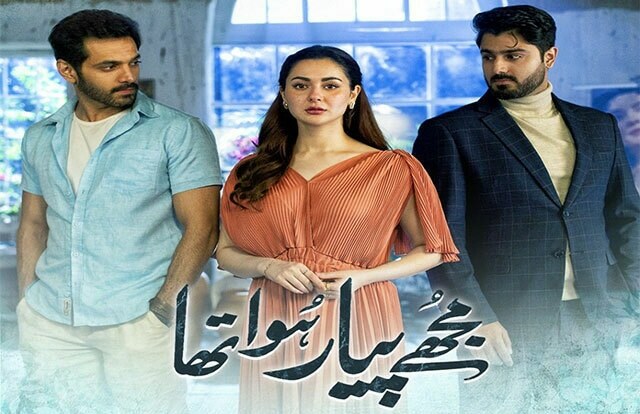 Maheer's world is rocked by betrayal, heartbreak, and lies as she discovers the truth about Areeb not showing up at...

Maheer's world is rocked by betrayal, heartbreak, and lies as she discovers the truth about Areeb not showing up at his own wedding and her marriage to Saad.
The tale of love and relationships is shown in the drama "Mujhe Pyaar Hua Tha" on ARY Digital at 8:00 pm every Monday. It is a story revolving around a love triangle involving Maheer, Saad, and Areeb.. Saad's life has always centered around Maheer, whom he loves fervently but has never expressed his feelings to. Maheer, who has only met Areeb, nevertheless develops feelings for him. Maheer and Areeb were all set to wed when the unexpected happens. Now Maheer must choose between the two men who both love her. Hania, Wahaj Ali, and Zaviyar Noman, star in "Mujhe Pyaar Hua Tha," a complicated story of love, grief, and difficult choices.
Areeb believes Maheer has moved on because Faha manipulated him into believing she is living a joyful life through a photo from her valima.
Maheer is seen crying in front of her father, begging him not to ever forgive her for the biggest mistake she made which robbed him of his own support when she wanted to be his support instead. Maheer tries to talk to her after Neelo accused her of being responsible for everything that is happening. Maheer asks how she can believe someone who has just arrived and assassinated her character. Neelo is no longer persuaded by anything Maheer says as she now thinks it is because of Maheer that no one wants to marry her as they assume she is the same as Maheer. Saad is doing everything he can to bring Maheer back to life and is only supporting her through love and care.
After Anabia returns she comes to meet Maheer. Maheer was unaware that Areeb's father had passed away until Anabia told her during their discussion of everything that had occurred. She told her that they couldn't bring the baraat because Rehan uncle had a heart attack and died that same evening. She questioned how Maheer was able to marry Saad when she was in love with Areeb. She also informed Maheer that when Areeb came to her house they pushed him out of the house, so he was unable to tell anyone. She is told by Anabia that Areeb thinks you did not wait for him and cheated on him.
Maheer is astonished to hear all of this. She then presses her mother on the issue. She was furious that, despite being dishonest herself, she kept assuming Areeb was being unfaithful. She was so furious that she laments not believing in her love.
Later, Anabia's mother informed her it was Beenish (Areeb's mother) who was the bone of all contention because she insulted Azhar and Rafia and made it obvious that they should marry their daughter off to whoever they pleased and that she will not be bringing her barat.
Maheer questions Saad regarding his knowledge of Areeb's father's passing. Saad informs her that he was unaware of the situation and that he is only hearing about it from her. He is enraged that she does not believe him, and if she feels that he is lying to her as well, she is free to leave. Maheer is seen crying and cursing herself for not waiting for Areeb and how her own parents lied to her. Meanwhile, Saad is heartbroken after what transpired and what Maheer thinks of him.
Saad offers that he can take Maheer to Areeb's house to give condolences. Maheer responds that she doesn't know where his house is. Saad responds sarcastically, "You know about his heart, but not his house, I'm sure we'll find out about that.
Maheer is back to square one, and is once again seen pondering her past. We don't understand why she is unable to see Saad's love for her despite his very evident efforts. We were finally getting to see the two moving forward in their relationship, but due to Anabia, Maheer is back to crying.
Neelo's hatred towards Maheer is a bit too much specially when she is her cousin and she was after everyone to get Maheer married to her brother. However, we are interested to see Areeb's response when he learns what his mother did. What do you think Areeb will do? Will he attempt to convince Maheer that he wasn't at fault or will he start believing Faha and his mother once more? Let us know in the comments section.