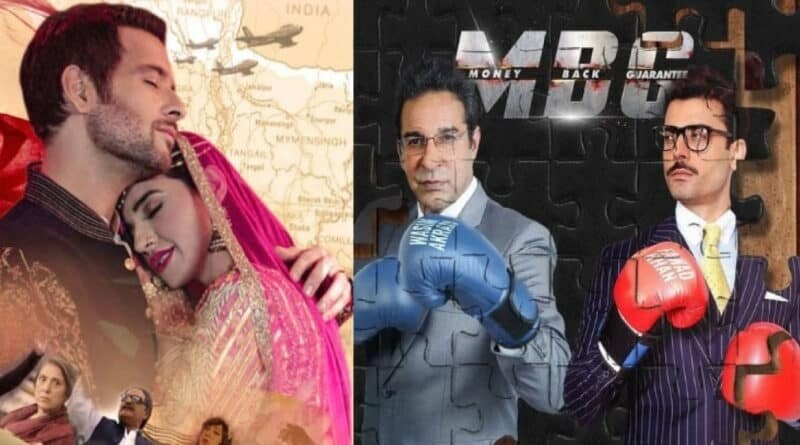 What is missing from our Eid releases this year?

'Whatever goes up, must come down' may be a fact of life but the way the Cinema industry in Pakistan has gone down in recent years, it has surprised most of its supporters. Unlike last year when people thronged cinemas to buy a ticket to watch Dr. Strange's sequel, this year has been disappointing so far. Not only the cinemas have been mostly empty but not many people are aware that four Urdu films were released in cinemas during the Eid holidays. The reasons vary from less belief in the product to the out-of-reach prices of cinema ticket, but the biggest reason remains the inability of most producers to market their own films.
Some may blame the COVID-19 for the disinterest the audience is showing to cinemas today while others feel that OTT platforms are to be blamed, but the fact remains that whenever a quality film is released, people watch it without thinking twice. Just last year, Humayun Saeed – Mehwish Hayat starrer London Nahi Jaunga was released during Eid ul Azha along side Quaid e Azam Zindabad and both managed to do well at the box office.
They were preceded by Sarmad Khoosat's Kamli and followed by The Legend of Maula Jatt, which went onto become the highest grossing Pakistani film ever. All these films were supported by big PR firms and had it not been for the countless interviews they arranged, the many visits to malls and universities as well as the TV appearances, the box office result would have ben different. Instead of learning the trick of the trades from these maestros, the four Eid films chose to do their own thing which resulted in the audience's visible lack of interest.
One must mention ARY Films here for starting the trend of film marketing and promotion in Pakistan, and if the producers of these four films would have asked them for their advice, I am sure that Jerjees Seja would have told them that it would be better not to release a film without promotion than to release one on Eid ul Fitr. After all, out of the 20 highest grossing Pakistani films of all times, 10 were somehow associated with ARY Films which is by far more than the combined tally of its two competitors Geo Films and HUM Films.
For some films they were the distribution partners, for some TV partners but for the majority of them, they were the co-producers and that's what helped these films in a big way. From using their flagship show Jeeto Pakistan for promotion for Eid ul Azha releases to making the stars appear in different entertainment shows, they have been there and done that. They even marketed some films that were not even part of the ARY Films and were behind the most neutral Film Awards ever held in Pakistan, where a few awards went to non-ARY Films, for a change!
Ten years back, when ARY Films began the trend of film promotion with Main Hoon Shahid Afridi and later Waar, it was more of a novel idea for the cinegoers. They had heard of such promotion in Bollywood or Hollywood but in Pakistan, it was a new thing and was later adopted by all those who wanted to see their product succeed.
That's why be it the two films of the Jawani Phir Nahi Ani series, the two Nahi Jaunga flicks and even Wajahat Rauf's roadtrip films Karachi Se Lahore and Lahore Se Aagay, every film was announced as the next big thing and some of them even succeeded at the box office. Even standalone films like Janaan, the first Wrong No., and Asim Reza's Ho Mann Jahaan and Paray Hut Love were promoted like never before, pushing the audience to cinemas in a smart way.
Sadly, those days seem to have been gone because after this Eid is over, the next Eid will have smaller budget flicks making it to the screen which might not have the kind of budget required to promote their films. By now it's a common knowledge that no new films is being produced in the country and the ones under production are those which were launched way back, in pre COVID-19 days. So perhaps now the cinema owners should make it a point to offer discounts on their tickets or reduce their prices to make tickets affordable otherwise the closure of the 140-odd screens in the country will sadly be a reality.