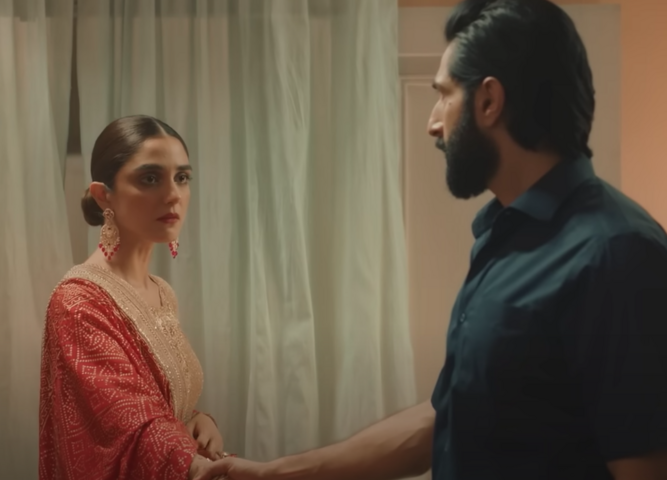 Yunhi, the acclaimed Pakistani drama currently being broadcasted on HUM TV, has made a profound impact on the...

Yunhi, the acclaimed Pakistani drama currently being broadcasted on HUM TV, is enchanting audiences with its enduring narrative of love, cultural intricacies, and a captivating romance. The stellar portrayals by Maya Ali and Bilal Ashraf in their lead roles as Kim and Dawood have earned widespread admiration, turning the series into a nationwide sensation. The show is produced by Momina Duraid, helmed by the accomplished director Ehteshamuddin, and crafted by the talented screenwriter Sarwat Nazir.
The wholesome episode was a treat to watch, as Yunhi reels its way to the end, viewers are left wondering what the end is going to be? Are we going to get the happy ending with Kim staying back in Pakistan out of sheer love for Dawood and his family or will she break all of our hearts and go back to the United States.
Lets take a look at what the latest episode was all about:
Iqbal and Zulfi Get their Happily Ever After
Yunhi has made significant strides in normalizing late marriages through Iqbal and Zulfi's tale, it was a refreshing departure from the usual narrative that tends to focus on early unions.
The show sent a powerful message to viewers. It emphasizes that late marriages are not only acceptable but also commendable when individuals seek to settle down at a later stage in life, and that it is not too late after a certain 'age' set by the society has passed. In Iqbal and Zulfi's case their beautiful union and their story of love deserves a drama of its own - a spin off.
Watching such content is beneficial to viewers as it challenges traditional norms and inspires viewers to make informed choices about their own lives.
Kim, Dawood Aur George!
The third person in the relationship - George has arrived in between our love birds Kim and Dawood. Even after Dawood's insistence on not to meet George, Kim decided to meet him and show him around. She did feel guilty about it and left him after a while, however the damage was already done as the trust Dawood had for Kim was broken.
It also seems like George did not get the hints Kim was leaving and ended up coming to their home right in the middle of Iqbal and Zulfi's wedding festivities. Not only did this increase curiousity about who he was and what he was doing here. The entire scenario created a multitude of misunderstandings between Kim and Dawood. While we sense Kim does not want to go back to the states, it is probably her ego that is not letting her stay back.
Kim's Secret is Finally Out
After Iqbal's Rukhsati, the family members including dada-jaan find out Kim will be returning back to America while Dawood will be staying in Pakistan. This perplexes all the family members including Razia and Dada-jaan who had just recently accepted Kim as one of their own whole heartedly.
Dada-jaan's character has come a long way from the first episode to this, previously we would have expected him to ask Dawood to force Kim to stay back in Pakistan however, his recent advise to Dawood left us in awe. He not only asked him to move with Kim to America but also asked him to do his best to save his marriage. This was a great gesture coming from an elder who schooled the man instead of the woman about 'compromising' to save a marriage.
Will Kim change her decision about leaving Pakistan and stay back in order to continue her marriage with Dawood? Keep watching Yunhi to find out.