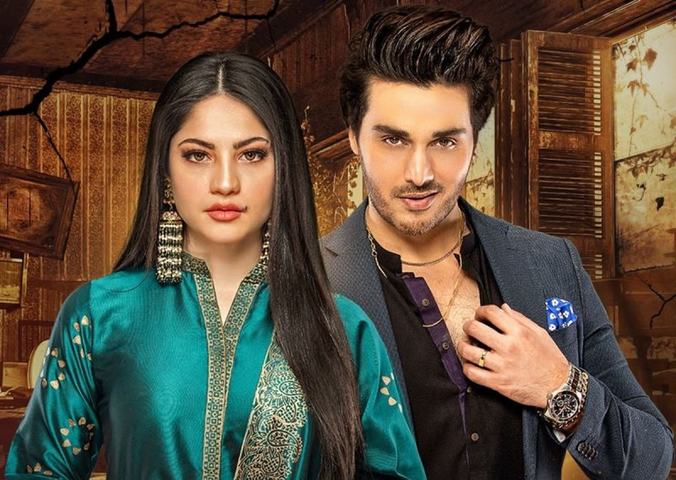 Qayamat continues to keep its audiences hooked, obtaining a fantastic achievement of 10.4 TRPs!

Geo Tv's Qayamat boasts of an ensemble cast with Ahsan Khan, Amar Khan and Neelum Muneer as the lead actors. The latest episodes have seen a dramatic shift in the storyline after Ifrah and Rashid's wedding came as a shock to viewers.
The Story So Far!
Feeling betrayed by Jawaad (Haroon Shahid), Ifrah (Neelum Muneer) agrees to marry Rashid (Ahsan Khan) in order to become a mother to Samra's (Amar Khan) daughter Sana. Ifrah seems to be on a path of vengeance against Rashid and his family as she hasn't forgotten the kind of treatment her sister received from them. The two are married off in an small event at home with just the immediate family present. As usual, Rashid seems least bothered during the 'Nikkah' and maintains a look of indifference during the event just like his mother. Nargis (Saba Faisal) is ecstatic after the wedding as she can finally marry off Jawad to the girl that she chooses instead of Ifrah whom she despised from the start. However, Rashid seems quite interested in Ifrah and shows concern for her from the minute they come baack to their house. Alas, this time it is his wife who has absolutely no concern for him. He is now being treated similarly to how he behaved with Samra, depriving her for his affection, love and care during their marriage.
On the other hand it seems like Rashid's father has finally come around and realised the huge sacrifice Ifrah has made for their family. Mukhtar Sahab asks his wife Nargis to understand this and give Ifrah the love and respect she deserves, however Nargis is not having any of it at any cost!
Ahsan Khan's Rashid Experiences a Taste of his Own Medicine!
Rashid finally gets a taste of his own medicine courtesy Ifrah. We love the change in Ahsan Khan's character, from the extremely hot-headed 'meter ghoom jaega' persona he is now changing into a caring husband. He offers Ifrah a clean slate in order to start anew and to forget the past, however Ifrah shoots his idea down and reminds him that their marriage is nothing but a compromise due to the baby that she loves dearly. Ahsan Khan and Neelum Muneer have performed brilliantly and we're anxiously waiting for Ifrah to take down Rashid.
Neelum Muneer Turns the Tables on Rashid and his Family!
Neelum Muneer's Ifrah has nailed her performance as the fiery Ifrah, she is straight forward and tells it the way it is without sugar-coating anything. She not only treats Rashid indifferently but gives back thundering responses to her parents-in-law. We love how she makes it clear with Rashid on how she absolutely has no place for him in her heart and is merely here due to Sana. She is even able to answer back defiantly to Nargis and Mukhtar Sahab without a care in the world! Unlike Samra, Ifrah is here to make their lives miserable and we can't wait to see how they cope with her!
Fans were left saddened after the Ifrah – Jawaad pair was broken!
The fans were eagerly waititng for the two love birds to end up together and to bring some positive vibes to the drama, however the most unexpected happened, pairing Ifrah and Rashid together, the man she absolutely despised! We now have to wait and see whether Ifrah will be able to settle in with Rashid or will this relationship remain a compromise only.
Keep Watching Qayamat on Geo Tv Every Tuesday and Wednesday at 8 PM.