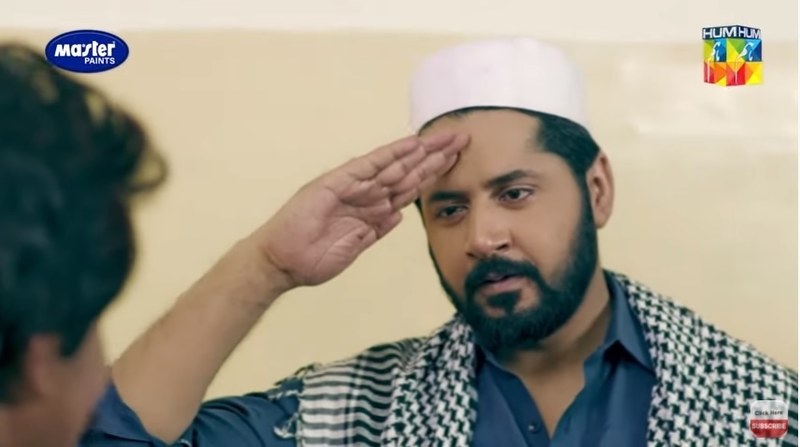 While Raqs e Bismil introduces new characters, some turn over a new leaf!

At a time when TV dramas usually lose the plot, Raqs e Bismil manages to keep the audience engaged with the introduction of new characters. In its thirteenth week, the protagonist loses his love to someone he doesn't know, doesn't return to his home after his release from jail, and meets a stunning yesteryear actress who might or might not take a liking to him as the story progresses. Kudos to Shazia Wajahat the producer, Hashim Nadeem the writer, and Wajahat Rauf the director for not losing the plot, and giving the audience a chance to wait for Fridays.
The Plot
After Moosa (Imran Ashraf) ends up in prison, and the mystery surrounding the 'burqa-clad girl' deepens, his ex-fiancée Sitara (Faria Hasan) visits Zohra (Sarah Khan) in an attempt to find out why she didn't give her statement to save Moosa. To her amazement, she learns that Moosa's arrest was news to Zohra, but she doesn't leave without taunting her about her upcoming marriage. On her first night in her new home, Zohra realizes that she is nothing more than a trophy wife for her husband Malik Sheheryar (Furqan Qureshi), who unknown to her orchestrated the marriage using his influential connections.
Sakina (Anoushay Abbasi) on the other hand not only refuses to talk to her ex (Taha Humayun) when he contacts her, but also becomes the dutiful wife Essa (Momin Saqib) wanted. They are worried about Moosa (Imran Ashraf) who befriends Saranga (Rashid Farooqi) in jail, gets bailed after the three boys refuse to testify, and moves in with Na Murad (Saleem Meraj) who hints at making a comeback to penning film songs and stories. It is on one such visit to the studio that Moosa gets to meet Laila (Zara Sheikh) who is a yesteryear superstar who still has clout in the industry.
The Good – New characters adjust well in an already established surrounding!
The twelfth and the thirteenth episodes of Raqs e Bismil features an interesting combination of established and newly-introduced characters. While Imran Ashraf is still on top of his game as Moosa, Sarah Khan looking absolutely gorgeous as Zohra, Anoushay Abbasi still ruling the screen as the 'revamped' Sakina, Mehmood Aslam, and Nida Mumtaz giving their best as the parents in turmoil, and Saleem Meraj, Momin Saqib and Furqan Qureshi taking the story forward with their characters, it's the newer folks who manage to make their presence felt.
With the introduction of Rashid Farooqi as Saranga, Sajid Shah as Shehbaz Gill (yes, that's the name!), and the eternal gorgeous Zara Sheikh as superstar Laila, the play moves into a new direction. While Saranga is a local don whom Moosa met in the prison, he meets Laila while on a visit to the local studio with Na Murad; Shehbaz Gill makes Zohra uncomfortable with his over sweetness when the two meet at her Valima reception. All three actors managed to do a good job and didn't appear as 'new' to the drama, which is a huge achievement.
Zara Sheikh on her TV debut as an actress (she did some music videos back in the day) impresses as someone who speaks her mind and is also good to look at. One must appreciate the producers for convincing the Tere Pyar Main girl to finally appear on TV, after winning over a generation as a film actress. Rashid Farooqi might not have been the first choice for the character (senior actor Iftikhar Iffi was), but he has done a decent job and the same can be said for Sajid Shah, who played the loving father in Saraab and here takes a turn for the worse!
The Bad – When inconsistencies occur despite the quest for perfection!
It is about time somebody pointed out that Faria Hasan was the wrong choice for Sitara; she may be a good model but she needs to work on her acting skills, especially her dialogue delivery. Not only does she comes across as someone who is too naïve but her backstory seems half-baked as well. Why she fell in love with Moosa, when did she start loving him and why does she wear the burqa in such an odd way, are some of the questions that need to be answered. She was good in her feature film debut Talash two years back but here she seems misfit for the role.
Also, Taha Humayun's Kamran should have either not returned in the drama or should have grown a spine if he wanted to elope. Otherwise, not saying no to his parents, not checking on Sakina during their clinic visit, and then calling her back after his three friends ended in the hospital seemed something only a loser would do. Then there was the strange issue of Na Murad's spacious house and his sudden interest in the film industry which wasn't prominent when he was selling paan. And why was Sajid Shah's dubious character called Shehbaz Gill is something only the makers could answer!
The Verdict – With Zohra's marriage, Raqs e Bismil takes an interesting turn!
Raqs e Bismil keeps the audience entertained with its episodes because a) it is shown once a week, b) it has characters taking the story forward than actors playing characters, and c) it doesn't try too hard to impress the viewers. With the addition of new characters, the play might be moving into a different trajectory revolving around the on-the-rebound Moosa and the still-desirable Laila. How Zohra, Malik Sheheryar, Saranga, and others would feature in this storyline is something that the viewers will have to know by waiting patiently, for good things come to those who wait, and the wait doesn't get any better if it's for Raqs e Bismil.