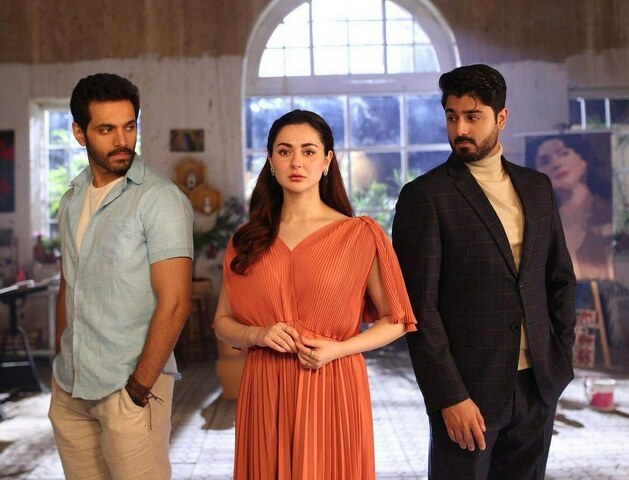 With his latest, oh-so-bold move of popping the question to Maheer in front of his buddies, is Areeb in the Aww or Cringe boat?

Since the beginning of ARY Digital's Mujhe Pyar Hua Tha, Mondays have become a lot more interesting. The drama's script was written by Sidra Sehar Imran, while Badar Mehmood directed it. A complex love triangle between Saad (Wahaj Ali) and Areeb (Zaviyar Ejaz), who are both in love with Maheer (Hania Amir), is the focus of the story . Cousins, Maheer and Saad live in the same house. Saad has been in love with Maheer since they were young children, but he has never confessed his feelings to her. Areeb originally met Maheer during the wedding of his best friend, and he has since fallen deeply in love with her.
The beginning of the episode gave away that Areeb's mother would not make things easy for Maheer when she threw away her bracelet in the dustbin. (Rich and arrogant mom alert!). Maheer is seen searching for her bracelet when she remembers Areeb informing her that he had something precious of her.
We adore Maheer's sweet relationship with her baba because it symbolizes the love and respect the father and daughter have for one another.
Neelo (Rabya Kulsoom) is attempting to alert everyone to the possibility that Saad will lose Maheer because Rafia does not appear to be in favour of Saad's proposal, and that either Saad or his parents should formalize their rishta before something goes wrong.
On the phone, Maheer and Areeb are conversing, and Areeb makes it very evident that he loves Maheer by saying things like, Tumse milne k bahanay dhoondta ho" (I enjoy our conversations. I find excuses to see you).
Areeb really wants Maheer to come to a dawat that he has planned for Anabia and her husband. Maheer, who is initially hesitant, agrees after realising that Areeb has her bracelet and that she wants it back because it is her mother's gold bracelet. We believe that Maheer enjoys all of Areeb's attention and wants to go because she feels a little infatuated by him as well. Areeb's mother admits to him that she was the one who tossed the bracelet in the trash because she doesn't have room in her home for such cheap jewelry. Areeb's response is unpleasantly blunt, but he also insists that he has already picked out a girl and will soon bring her to see them. Along with the rishta aunty, Rafia (Salma Hassan) meets an old friend who is basically come to their house for Maheer's proposal. Rafia, however, bluntly refuses and tells them that she doesn't want to marry her daughter right now after learning that her son isn't particularly affluent.
This serves as a timely reminder for her to inform Aneesa (Saad's mother) that she will not agree for Maheer to marry her Saad since, like any mother, she just wants the best for her daughter—a marriage to a wealthy family.While Neelo questions Rafia about why she is saying all of this when she has lived in the same house, Rafia becomes enraged. In her reply, Rafia says that she will send her the proposal that just arrived for Maheer. Neelo cautions her mother once more, suggesting that she should go to them and request Saad's proposal as this indicates Maheer is receiving proposals.
Saad questions Maheer about where is she going and when Maheer tells him that she is attending a dinner that has been planned by Anabia's friends for them. Saad reminds her that she doesn't get along with Anabia's friends and that she most definitely shouldn't go. She explains to Saad that she wants to go because Anabia is leaving for Canada the next week, and she wants to meet her.
Rafia is seen asking someone about a proposal on phone and when her husband asks what she is upto she tells him that she is never going to agree for Saad's proposal as her daughter only deserves the best. Her husband reminds her that he is her father and he will not decide anything that will hurt his daughter. Rafia tells him that Maheer is her only daughter and she doesn't want her to compromise on her needs as there is another daughter at Saad's house and Saad doesn't have a very nice job.
Saad is busy writing about his emotions in his diary, and it appears that he prefers to give Maheer cues about his sentiments by showing her care and attention rather than going out of his way to express them.
"Meri Mohabbat alfaz se kahin oonchay maqam per hai" (My Love cannot be expressed in words)
Neelo again tries to tell Saad to make an effort and express his love for Maheer because it's about time and if he will not do anything she will.
When Maheer arrives at Areeb's dawat and he is obviously overjoyed. Again, Areeb attempts to hold Maheer's hand. Maheer requests that he let go (thankfully, as this was a bit excessive for someone you had only just met, and we don't believe that a few encounters would be sufficient for someone to be this frank).
Once more insistent on finding her daughter a decent rishta, Rafia informs Maheer's father of a rishta from Dubai. Azhar explains to her that he can't allow his daughter to be used as an experiment because he doesn't want her to move abroad or marry into an unknown wealthy family. He is informed by Rafia that Saad has nothing extraordinary to offer their daughter. Neelo overhears the two conversing and is devastated to learn what her Taayi is thinking.
When Areeb introduces his special visitor Maheer to everyone and gets down on one knee to pop the question in front of everyone, he surprises everyone.
Given the speed at which Areeb was pursuing this supposed relationship with Maheer, the incident wasn't unexpected. Although Areeb's mother was shown to be extremely supportive of his son's choice when he revealed he had met a girl, in the first episode, we think there should have been more of a story and character development because in this episode the she was an entirely different person.
Wahaj Ali is excellent as Saad, and we get the impression that he is the kind of quiet lover who would keep it to himself rather than engage in overt PDA. Maheer has left us with a lot of questions about who she actually feels for or perhaps she isn't sure herself. From here, it will be exciting to see how Areeb, Maheer, and Saad will move forward as well as how Rafia will persuade her husband to arrange for Maheer to marry a rich man.
Do you think Saad will ever tell Maheer how he really feels? Share your opinion in the comments box.