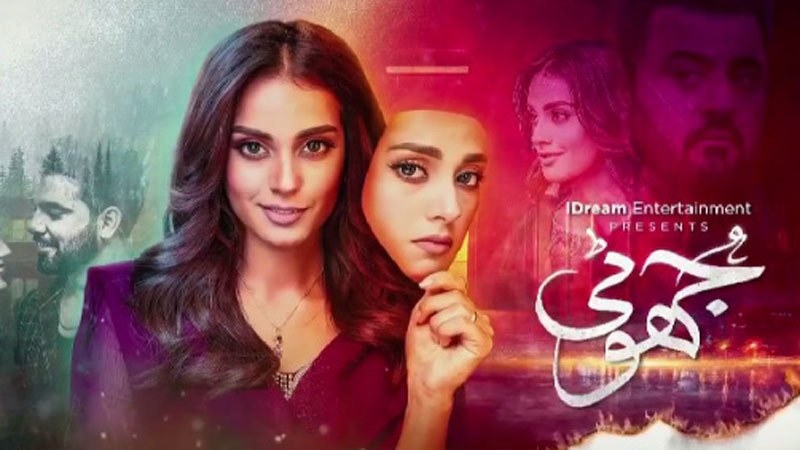 The teaser of Iqra Aziz's Jhooti is out, and social media has awakened! People are calling the drama misogynist. The reactions from fans are pretty strong as they claim that the storyline, from the looks of it, is mocking victims of domestic abuse.
Moreover, some are disregarding the plot, because it invalidates the struggle of these victims. Jhooti is an ARY Digital drama, that has been directed by Syed Ramish Rizvi, and produced by Abdullah Seja. It features Iqra Aziz, husband Yasir Hussain and Ahmed Ali Butt in eminent roles.
We are not really sure about its air date. But the teaser sure has a lot of people talking.
The teaser shows the newly-wed actress on the verge of tears calling out men for abusing their male power. She points out some bruises on her face that according to her, she got as a result of domestic abuse. Just when you start sympathizing with her, a look of deceit takes over indicating that Aziz might not be as innocent under that mask. Later, this is confirmed when she is witnessed applauding her performance in the mirror.
We'll have to wait for the drama to release to say any further.
Here's what some of the tweets have to say about 'Jhooti'
ARY really is on a mission to villify women. Ikra Aziz points at bruises and cries about domestic violence in the promo for Jhooti and then cracks up with laughter about her lying skills. Women's suffering is already ignored. Why create dramas to further demonise them?

Dramas of the 80's were so progressive, forward-looking & decent. As a leading mainstream channel, the onus is on you to break from ratings etc. Focus on QUALITY not QUANTITY. Currently, Merey Paas Tum Ho, Ghalti, Jhooti all stink off misogyny, disrespect & inequality in Pakistan

How could you trivialise real pain that women endure & barely/rarely survive? Extremely irresponsible & dangerous depiction. Domestic violence is real & a crime & a social cancer. It is not a joke. Trauma survivors are heroes.

Jhooti: another reason to never watch Pk drama