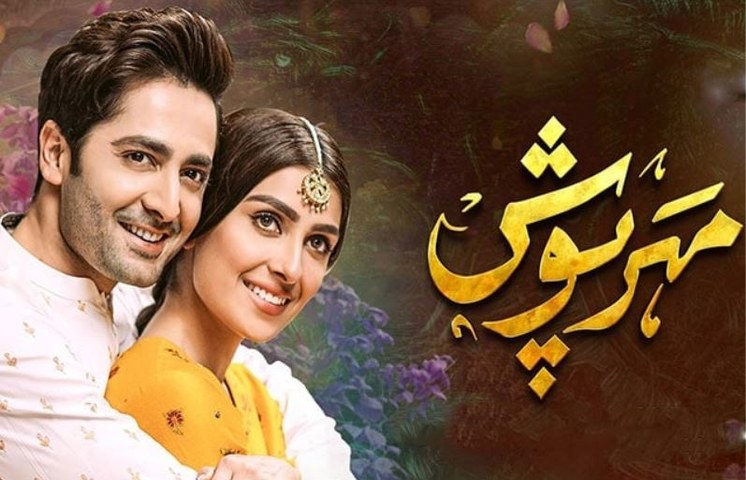 Is good acting enough to keep a drama exciting or does chemistry weigh in? Here's our take!

Ayeza Khan is all the rage these days. Her performance in Meray Pass Tum Ho has turned her into an eternal superstar. Fans already swoon over her porcelain skin and striking eyes. Her acting just adds a cherry on the top.
Consequently, when a project was announced that she will be starring with her husband, Danish in a drama 'Meherposh', we all were intrigued. This was the first time the pair was featuring on-screen and their chemistry was bound to be on-point!
The story begins with a sweet-family of four, gearing up for the marriage of the eldest daughter 'Mehru' (Ayeza Khan) - who is a strong, independent, working woman.
Unfortunately, she gets married to a vain, dogmatic, and chauvinist man, Naeem (Ali Abbas) who despite being well-educated, slanders his wife of having an immoral character without any proof.
Egocentric to the core, he decides to divorce her on the wedding night to protect his honor, thus becoming the villain of the story.
However, the plot has even a nastier character 'Shakila' (Iffat Omer). Related to Naeem, she is jealous and bitter that he was tying the knot to a stunning woman who she also chose for his son. Out of spite, she ensures the relationship gets destroyed and it does.
Meanwhile, the plot features Shahjahan (Danish)- a young boy in the neighborhood that has a crush on Mehru. He is quite attached to her father, who keeps him engaged in doing odd jobs for their house and family.
Here is where the plot twist comes!
On Mehru's wedding day, Shahjahan and his friends frivolously discuss how the beautiful bride is now someone else's trophy. The boys get disrespectful while discussing the unfinished 'love story' and what was worse, Shahjahan equally participates in the distasteful discussion.
The entire conversation is overheard by Naeem and Shakila, causing them to doubt Mehru of having a past with some of the neighborhood men and consequently, maligning her reputation.
Shahjahan, who is in head over heels in love with Mehru, now feels guilty that he has destroyed her life. Also, he has no clue that Mehru's younger sister 'Ayaat' has a huge crush on him.
The Good
If truth be told, Meherposh is one drama that started well. We loved the performance of Mehru's parents, essayed by the veterans Sania Saeed and Rehan Sheikh. Giving us a break from the portrayal of conservative desi parents in dramas, their sweet chemistry makes them one cute pair and we love to watch their adorable scenes together.
Ayeza Khan, yet again, stands out in the drama. Not only she looks beautiful and owns every frame, but she also aces every crucial scene. The moment she has a break down in front of her parents after being divorced made us cry along with her. It was indeed performed extremely well.
Ali Abbas has also rocked his role as Naeem. His acting as an arrogant, insecure husband is believable and will make his character amongst the most hate-able of the season.
Iffat Omer is so good at Shakila, you just want to strangle her for being so cunning. She has wrapped herself so well in the scheming avatar that you loathe her with a passion.
The Bad
Ayeza Khan and Danish's lack of chemistry is extremely disappointing. That was one of the promotional features of the drama and we hardly witness any sort of connection between them.
In most scenes, Danish looks even younger than Ayeza. His clean-shaved look and dressing style makes him look even more boyish than usual- which might be good for his character but appears slightly mismatched against Ayeza.
The story that began on a good note is now becoming clichéd and a drag. To keep itself amongst the top dramas of the season, Meherposh needs to pick up the pace again and excite us with more twists.