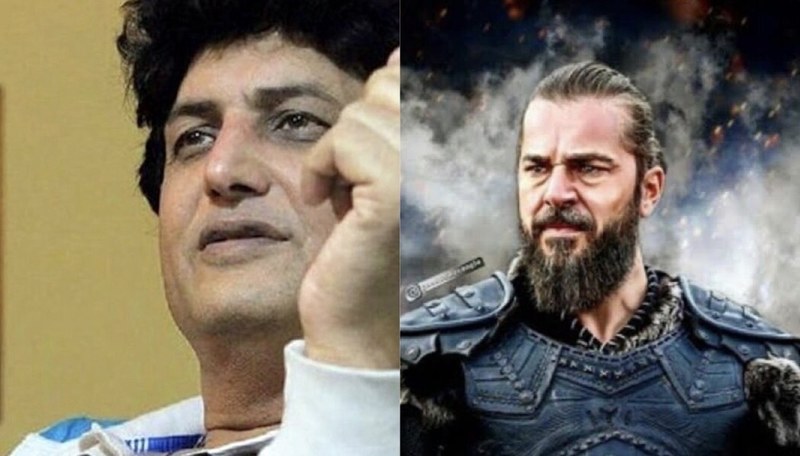 Khalil Ur Rehman defends Imran Khan's decision to air Ertugrul on PTV for the Pakistani Awaam!

One of the few things keeping our Pakistani citizens entertained and satisfied during quarantine is a Turkish show called Ertugrul.
The popular saga entails Islamic conquests before the establishment of the Ottoman Empire in the 13th century in high resolution. With the recent release of this riveting piece of relevant historical events in Pakistan the ratings are off the charts.
With the script adapted in Urdu, some of our writers and directors are inspired to produce something much too similar, particularly the well-known Khalil Ur Rehaman,, writer of the super hit drama Meray Pass Tum Ho and many other popular shows is now rumored to have been highly motivated to write an entirely non-fictional script for our fellow Muslims around the world.
Referring to the Turkish drama shown in Pakistan, he stated,
"I salute the creators of Ertugrul and Tayyip Erdogan. I appreciate Imran Khan who wanted the nation to watch this drama,"
"Ertugrul was the hero of the Muslims, whether the serial is made by Turkey or any other country, heroes don't change," said Qamar.
The Punjab Nahi Jaungi writer also said that it was time to introduce our heroes to the younger generation who don't know them. It's been said that we as a country don't educate the "younger generation" about significant world, values but jump at the first opportunity to teach citizens history and educate them on the heroes of Islam.
Renowned actor and director Shaan Shahid objected over Pakistan's decision to air the Turkish show on PTV. He said that 'we should find our own heroes'.
In reference to Shaan Shahid's previous comment, Khalil Ur Rehman cleared the confusion of what Shaan actually meant. "Shaan's remark was perceived completely wrong," said Qamar.
"He is not against Ertugrul in any way; he just wanted Pakistanis to make their own periodic drama serial and cast our own local actors in it."
The Pakistani Industry is not particularly in a position to create the same sort of high budget productions; irregardless, during this period of global pandemic paranoia, where everything seems chaotic and hopeless some of our fellow influencers are inspired to create and we wholeheartedly hope they persevere!