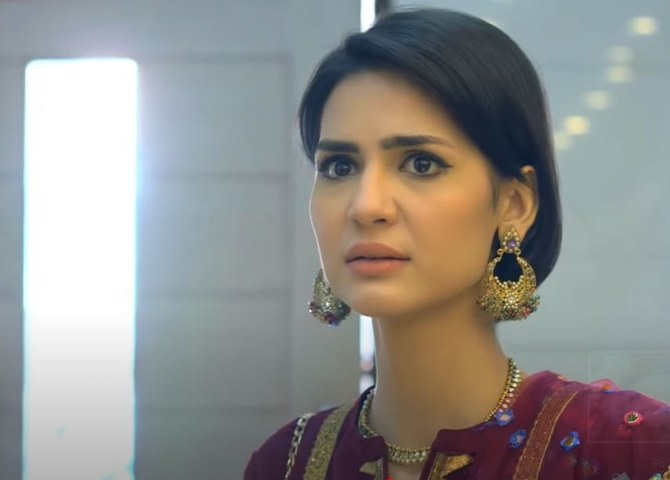 The drama becomes all the more exciting with a new turn in the storyline as events get more intense!
After a long time, we finally achieved the much-needed twist we were eagerly looking forward to in Muqaddar. The recent episode initially appeared to be slow. However, it ended with a massive bang with Saad finally finding out where Raima had disappeared after she got abducted! Let's review all that happened in Muqaddar this Monday.
Heartbreaks and Hard-hitting Confessions
Hasan's struggle to convince Abeera that he is innocent continues. He is leaving no stone unturned to persuade her that the scandal published in the newspaper was a smear campaign to malign his reputation. Meanwhile, Abeera is shattered and continues to ignore his calls. Haris summons his cousin and Abeera's best friend, Zara to help him in this matter.
However, he does not know that his Khala and his mom are planning to get him married to Zara. It was refreshing to see that Zara, who likes Hasan, does not play evil and helps him to get in touch with Abeera. She tries her level best to make Abeera listen to the real story and even visits her at her home, only to get insulted and ordered to leave by Abeera's mother.
Meanwhile, Raima's heart still aches with the love for Haris. This proves that even if Saif Ur Rehman showers her with all luxurious and financial bounties, nothing can replace pure, true love.
Maha and Haris are gearing up for their wedding next week. On one of their shopping trysts, the couple comes face to face with Raima and Sardar Saif Ur Rehman. The awkward encounter is especially difficult for Haris and Raima, who finally finds out about his upcoming wedding.
Haris thunders away while Raima is reeling in shock. However, even a massive shock awaits her over the day. While heading home, Saad spots Sardar Saif Ur Rehman's vehicles and piqued with curiosity, follow the convoy to the location where Raima lives.
He gets the shock of his life as he finally realizes that it was Saif Ur Rehman who was behind Raima's disappearance. However, Sardar maintains his cool and introduces him to his second wife. He even threatens him to reveal the secret to whoever he wishes to for he was no longer afraid of his hidden marriage.
Raima faces the brunt of this shocking turn of events as Saif blames her for planning this and being in contact with Saad. He manhandles her and terrorizes her that he will kill her if he finds out that he has been betrayed.
The episode ends with Raima shivering with anxiety and is close to having a panic attack as she absorbs the wicked truths that hit her over the day.
Top-Notch Performances by the Whole Cast
Full marks to Madiha Imam for stealing the show in the ending scene. She perfectly portrayed the pressure, misery, and restlessness of a person going through mental anxiety. She made the helplessness of her character so evident in that scene, alone making it powerful while showcasing Raima's vulnerability so effortlessly.
Haroon Shahid also deserves appreciation for pumping extreme energy into Saad's confrontation with Sardar Saif Ur Rehman. The shock of finding out the real truth was indeed flabbergasting for Saad and Haroon did utter justice to that important scene.
Ali Ansari equally gave a power-packed performance as he comes face-to-face with Raima in the jewelry shop. The star puts out a lot in his acting with the right expressions on his face. Ali played them all impeccably- bringing out all the anger, longing, and anguish on his face in one go.
As usual, Faysal Qureshi needs no praises! He is hands down, the superstar of every episode, and keeps us riveted with his menacing acting.
We are hoping that like Saad, Haris too discovers the real truth behind Raima's marriage. Here's too wishing that it happens soon.