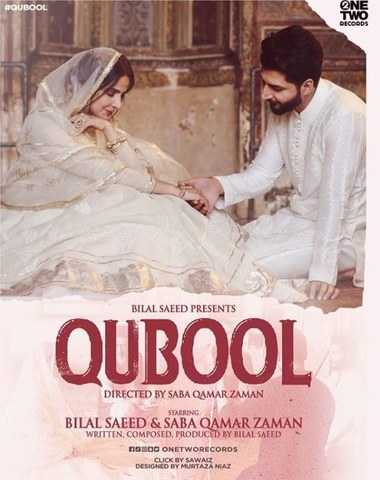 Saba Qamar shares the trailer of video, 'Qubool', and rectifies any misconceptions people may be having.

Recently, Bilal Saeed and Saba Qamar's latest directorial debut, 'Qubool' has become quite a popular topic of discussion on social media. Stills of the smiling depicted 'married couple' have been deemed as disrespectful by fans, as a music video shot at Wazir Khan mosque.
Fans speculated after seeing the teaser for the song releasing on 11th August, that it was shot at the historical Wazir Khan Mosque with playback music, this alleged news made rounds on social media before the Cheekh actor cleared it up.
Saba Qamar shared with fans that the stills shot at Wazir Khan Mosque had no playback music whatsoever, nor was it edited with or to any music, but a simple circular movement for the teaser, portraying a happy couple after their Nikkah was shot. She apologised if anyone had taken offence but strictly attested that it the teaser was a shot of stills without music, as there was no intent whatsoever to disrespect a historical place of grandiose and faith.
"The BTS video that's making rounds on social media was just a circular movement to click stills for the poster of 'Qubool' depicting a happily married couple right after their Nikah. Hurting or offending anyone or being disrespectful to a holy place is as unimaginable and unacceptable for me as for any decent human being."
The video for 'Qubool' will be released on the 11th of August as we await to see Saba Qamar's directorial debut with her latest project! Bilal Saeed has already shared some snippets from behind the scene, leaving us all the more eager to see the finished product!