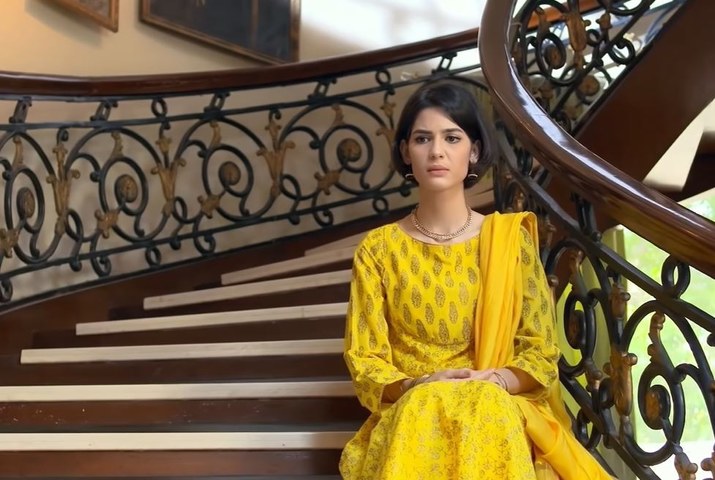 Intense developments in the story line have us eager to watch more!

Muqaddar has gained immense strength in the past two weeks and we are loving it. The story is crackling with intense heat as, finally, the much-needed face-off happened between the wives of Sardar Saif.
Let's take a quick review of what has happened in Muqaddar with all the fiery developments so far.
Raima Proves That She is the Real Bosswoman
Tensions escalate as Raima (Madiha Imam) and Sardar Saif (Faial Qureshi) finally made their marriage public for everyone. Now that she is the real Begum Sarkar for the world, burning jealousy rises in Farkhanda (Ayesha Gul) who just cannot digest the thought of a co-wife living under the same house as herself.
Equally worse is the reaction of Abeera (Sabeena Syed), who has turned into a hurt, rebellious daughter by her father's secret marriage. These three ladies will be giving a tough time to each other and Sardar Saif is witnessing all the meltdown at home with all the calm he can muster.
Threatening Abeera and his wife to accept his second marriage, he has openly warned them that he will leave them if they continue to be annoying tyrants in the home. Meanwhile, Raima is feeling awkward and uncomfortable with the twisted turn of events. But now, she is no more thinking of Haris (Ali Ansari) and has moved on from the misery of her forced wedding.
In fact, we are observing that Raima is adamant to make herself accepted in the new home, if not by love then by patience. Obviously, she won't resort to war but she has shown to Farkhanda that she has self-respect and won't let anyone walk all over her. We are loving her confident, gutsy shade. She has even asked Sardar Saif that she wants to complete her education, to which he readily agreed.
Saad (Haroon Shahid) feels crammed in the entire mess. Abeera has made it clear that she won't marry him until her father divorces Raima. Now Saad is clueless about how to prevent the brewing battle in the household. He has feelings for Raima and feels compelled to protect her. He is not able to hide the fact that he has a soft heart towards Raima, something that both Abeera and Farkhanda are noticing.
Haris feels alone now that his mother has passed away. However, he is slowly bonding with Maha (Shameen Khan) and opening his heart out to her. But we wonder what will come up next in the couple's life. The last episode showed no scenes of the couple and we wonder why there has been a pause in their chapter. The promo of the next episode shows Raima not bowing down towards Farkhanda who is warning her that she is nothing but a toy to Sardar.
Intense Developments are Making Muqaddar a Must-Watch
Hands down, Muqaddar is surely the only drama this season that is not lagging in its storyline. It has no boring scenes or dull dialogues that will compel you to switch the channel or leave its episode on YouTube. It's fascinating in every sense, from its actors to the performances, the plot to the direction; nothing has been left amiss. The result can be seen in high ratings the drama is getting against its rivals on other channels.
Ali Ansari nailed the scene where Haris goes through a breakdown after his mother's death. But we missed him in the last episode. Let's see if we get to see more of him in the upcoming week. As usual, Faisal Qureshi proves he is unmatchable when it comes to delivering a high-powered performance. Equally worthy is Madiha Imam's performance who proved in the last episode that she is just the right fit for the role. The way she portrayed the self-reliant side of Raima left us in awe.
Let's see what is coming up next fans for Muqaddar. We are next waiting for Sardar's downfall, one we are sure is bound to happen in the drama.