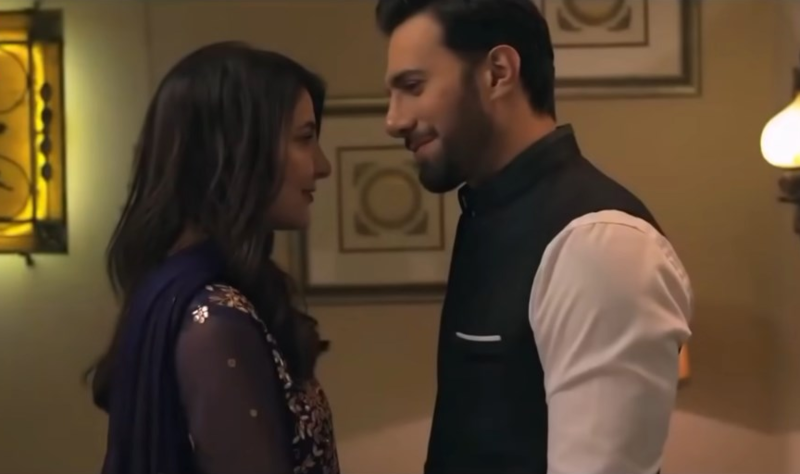 Here's our take on the latest drama going on in 'Jalan', with a controversial storyline landing the serial in hot water.

ARY Digital's 'Jalan' has surely made it to the list of the most talked dramas of the season. But this does not necessarily mean that the story has reaped a lot of ardent fans.
We have observed that a major segment of the audience is extremely against the nature of its plot but is nevertheless following it. We too have been reviewing Jalan over the past few weeks, while its tale has gotten more and more controversial over time.
Let's do a quick revision over what has been happened in the contentious drama so far!
Of Slapping Sprees, Forced Marriages and a Thoughtless Asfand
Even though Misha (Areeba Habib) is pregnant, Asfand (Emmad Irfani) continues the much sordid, scandalous affair with his sister-in-law, Nisha (Minal Khan). Seems like nothing will change his mind, not even the chaos that has erupted due to the vile situation. A heart-broken Misha has landed herself in the hospital, battling between life and death. Asfand's parents-in-law are disgusted with his behavior and Nisha doesn't stop nagging him to death.
It is mind-boggling how Asfand, who appears so polished, well-groomed, and educated, could be so weak and imbecilic. He is completely under Nisha's influence that he is determined to divorce Misha, shunning the dire consequences his actions are bound to create.
So much so, he has turned a blind-eye towards Nisha's immature and impulsive mood. She screams, threatens him, and even spills poison about her sister. All the times Nisha says to him "App ko Nisha Chaye ya Misha" just made us cringe. Disguising all her irrational demands under the veil of 'love'; Nisha is controlling Asfand and it is a shocker at how could he be such a chump.
The act of slapping one another trends in every episode of Jalan. Nisha receives the most blows but remains the most brazen of all. So much so, her parents decide to marry her instantly the same day Misha is in hospital and has not even gained consciousness. Surprisingly, even the groom's family agrees to it and everyone gets ready just in hours for an intimate wedding at home. We wonder what was the hurry about as Nisha flees from home at the last moment anyway.
Meanwhile, Ahmer (Fahad Sheikh) is being pressurized to marry Areej (Hajra Yamin). His sister Humera (Maira Khan), who is behind the whole idea, doesn't find anything wrong that she is about to ruin lives, especially that of Areej. Forced marriages never work and like in every clichéd drama, desi households are bound to disregard this reality. The promo of next week doesn't reveal much but we all know things are going to get even bitter and uglier than ever before.
All the Noise Seems to Be Working Well for Jalan
For once, we need the characterization of stronger men in Pakistani dramas. Although Emaad Irfani has played a doting, reliable husband in Cheekh, Asfand in Jalan is the complete opposite. His character has taken a puzzling U-turn in the story. Earlier, he was portrayed as the reserved, decent fellow who was deeply in love with his wife. Asfand hated it when Misha shared her stuff with her sister and was repulsed when Nisha used to entice him by sending impromptu pictures on his phone.
Now all of a sudden, Asfand has been swayed away by Nisha. Within days, he got under Nisha's spell which makes us realize that we desperately need to portray iron-willed men and high moral husbands in our stories as well. Nevertheless, Emaad Irfani has made us loathe Asfand, proving his acting chops are the finest in Jalan.
Nisha's character just makes our blood boil. She is that one snobby, icy queen that is present in every story. Too bad she is the cold-hearted sister of the protagonist here and we so much wish that this was not the case. Minal Khan's performance is fitting as the crazy Nisha and she has pulled off the wild shade in her character with apt.
We feel Fahad Sheikh deserves more screen time in the drama. He is proving himself as a fine actor and has a long way to go in the industry. Let's see what the future holds for Jalan. One thing is for sure, the story will continue to get the wrath of many. However, even negative publicity is publicity and it will get the makers ratings for their work, regardless.