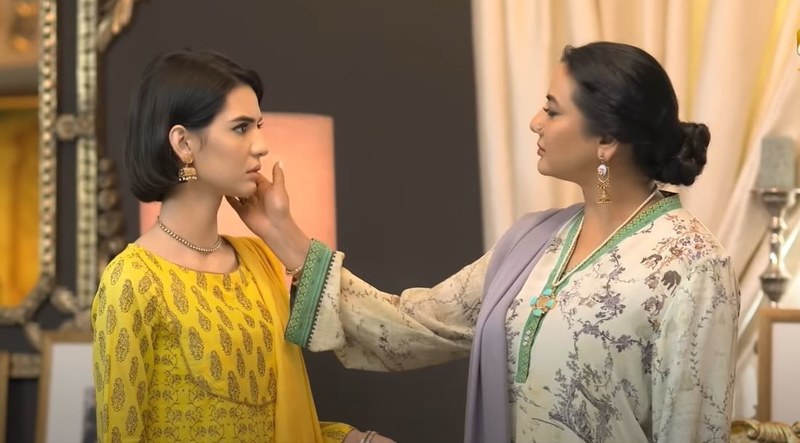 With new episodes of Muqaddar come new developments - read on to see our take!

Monday brings a spree of entertainment for drama buffs with Prem Gali on ARY Digital, Mushk on Hum TV, and Muqaddar on Geo Entertainment.
With the competition intense amongst all the three dramas, the good, old Muqaddar is reigning strong over the two new entrants.
Faisal Qureshi, Madiha Imam, Ali Ansari, and Haroon Shahid have become our favorite pack of actors on screen. Let's see what the squad was up to this week in Muqaddar.
Evil Farkhanda Raises Her Game
Raima (Madiha Imam) gets hit by severe nostalgia as she returns to her old home for a sweet visit to her mamu (Saif-e-Hassan) in the absence of Haris (Ali Ansari). However, she gets the shock of her life when she realizes that her mamu, Haris, and Maham (Shameen Khan) are all leaving the city to begin their life in a new country. They would be selling their home, leaving behind all harsh memories and starting a fresh chapter in their lives.
Of course, our heroine is heartbroken at the tragic news. However, Haris arrives at the scene and explodes into an aggressive outburst upon finding Raima in the house, leaving her all the more disturbed. Screaming and commanding her to leave, Haris crosses a line and receives a slap from his father.
Back at the villa of Sardar Saif Ur Rehman (Faisal Qureshi), Farkhanda (Ayesha Gul) and her conspiracies against Raima get all the more hostile. She poisons Raima's mind that Sardar Saif Ur Rehman only married her so that she could give him a son. Later, she forces her to do the cooking and household chores. What's worse, she accuses Raima of robbing expensive jewelry from her room.
But yet again, unpredictability strikes Muqaddar's plot. Raima faints in front of everyone and the promo of the next episode has made it apparent that she is all set to become a mother.
We have gotten an additional clue that there might be another death in future episodes. It seems like Raima's mamu i.e. Haris's father will be bidding farewell to the story.
As usual, Saad (Haroon Shahid) is in deep trouble as Farkhanda is now sure that he loves Raima. She is bound to use this against him and Raima, plotting schemes to ruin the female protagonist, once and for all.
Where is Muqaddar Heading?
Ali Ansari finally returned after a long gap of three weeks in the story. He is performing the angry-young man avatar like a boss in the scenes. You can see the fury in his eyes and the stubbornness on his face. He has portrayed Haris's hate for Raima very aptly in all the scenes.
We really want Raima's character to get justice in the story. Clearly, her life with Sardar Saif Ur Rehman is moving at a fast pace. She confesses to her Mamu that it is now obligatory for her to respect her husband, regardless of whatever has happened. The rebellious streak in Raima is slowly dying down and we are wondering if this is how the story will end for her. Will there be no reunion of Raima and Haris? Will the egoistic Sardar get punished for his vile abduction? We hope the drama doesn't end up glorifying the antagonist.
The story is now moving fast, making us all the more anxious about the conclusion of the drama. What the makers have planned next? Let's wait and watch!