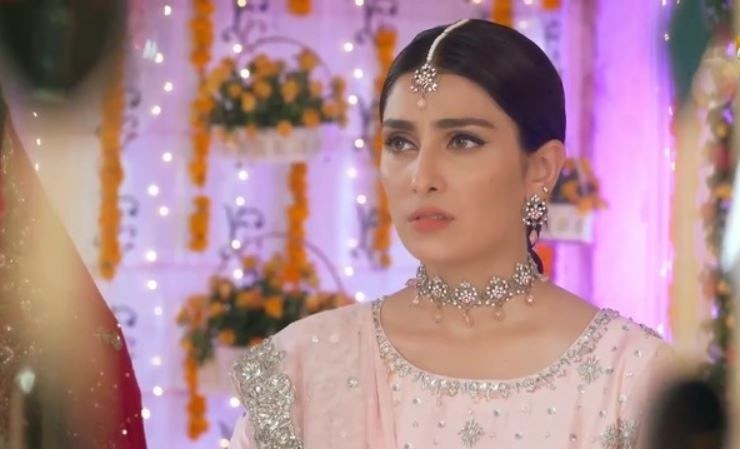 Ayat's character manages to grab the spotlight in the story!

The subject of sibling rivalry in Pakistani dramas is all the rage these days and Meherposh is one story that has taken this theme to the next level. Not that we are liking it!
With multiple inane twists and a mundane love triangle, the drama's plot is getting pointless with every passing episode. If it would not have been for Ayeza Khan and Danish Taimoor's star power, Meherposh would probably never have been in the spotlight.
Let's take a quick review of what has been happening in the drama in the past couple of episodes.
A quick wedding and forbidden love
What is a Pakistani drama without the parents compelling their children to marry someone they don't want to? This clichéd is a must in every story and of course, Meherposh had to follow the trend. Mehru (Ayeza Khan) gets saved from the goon she was about to marry. But another tragedy awaited her in the form of her lover boy, Shah Jahan (Danish Taimoor) getting married to her evil sister, Ayat (Zainab Shabbir).
It was just bizarre and a little preposterous how things shaped up. One minute chaos has struck Mehru's wedding and the next minute, Ayat and Shah Jahan's Nikkah is taking place at the same event. What was shocking that even a bridal dressed got arranged for our bride Ayat in a jiffy. Even the newly-weds had their room all decorated with flowers.
Kudos to the super speedy arrangements that otherwise in reality would never have been possible.
Meanwhile, Shah Jahan's mother is slow poisoning Ayat's mind against Mehru. On the other hand, Shah Jahan has unleashed his fury on his newly-wedded wife for losing the love of his life forever. But he continues to pine for Mehru, calls her on his wedding night, aches for her, and only desires her.
Seeing all this, Ayat is jealous. She is taking out her frustration by screaming at her husband for not giving her attention, scolding her mother (Sania Saeed) for glorifying Mehru, and being painfully bitter towards her sister.
But what is done is done. Nothing can annul Shah Jahan and Ayat's marriage. Three lives have now been destroyed and from the looks of it, Ayat is going to suffer the most in this mess.
The promo of the next episode shows that Mehru and Shah Jahan continue to meet in secret and angry Ayat unleashes her wrath on Mehru, accusing her of running after Shah Jahan even after he is married.
Is Meherposh trying too hard to please us?
With a low story game and a clichéd plot, Meherposh is not one of our favorite dramas these days. Ayeza Khan and Danish Taimoor's fans must be ardently watching it. But if truth be told, Meherposh is not an innovative story of its time.
It has the same mix of a love-triangle, divorce, sibling rivalry, and an evil mother in law to tempt us. Sadly, the recipe has gotten way too stale to impress us.
Zainab Shabbir as Ayat had a lot of screen time in the past three episodes, given that the limelight is on her now. From a doting sister she has turned into a vile one and we just cannot help wondering how a guy can weaken bonds that are tied by blood. Nevertheless, we see a promising star in her. If she continues to give her best in the industry, she has a long way to go. We are looking forward to seeing her in a different role in the future.
The hot and sour chemistry between Danish and Ayeza is also becoming dreary. The usual scenes of them chasing and repelling each other are now getting dull to watch. All we see is our heroine either crying with misery or admonishing Shah Jahan, while our hero continues to long for her. Let's see what Meherposh has next in store for us.