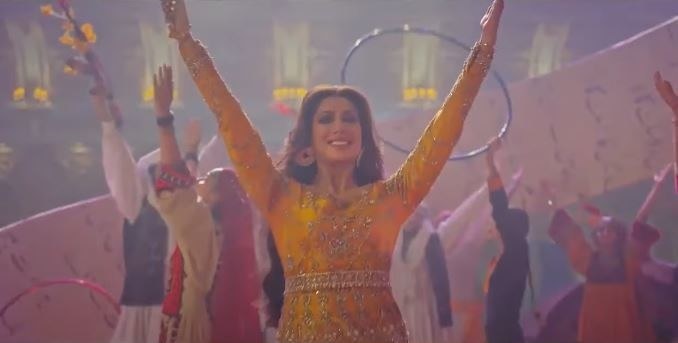 Celebrities have spoken up about PEMRA's decision to ban the Gala Biscuit Ad featuring Mehwish Hayat.

Recently, Mehwish Hayat revealed her Gala Biscuit advertisement for 'des ka biscuit' in a cultural display of festivities and music, directed by Asad-ul-Haq. The commercial garnered its fair share of hateful comments with users criticizing the choreography, music and of course, the actor herself.
Where there were people 'hating' on the advertisment others were praising Mehwish for her fun-filled performance as well as the beautiful décor for the biscuit ad, which many found to be harmless, refuting the comments of viewers who were unhappy with the entire production.
Nevertheless, Pakistan Electronic Media Regulatory Authority (PEMRA) has decided to ban the ad, instructing a re-edit. Previously, PEMRA banned Jalan which got revoked by the Sindh High Court as well as banning other television dramas for alleged 'indecent content', which has angered many fans. With the decision to ban the ad and question Mehwish Hayat's Tamgha-e-Imtiaz has caused the fraternity to speak up.
Actors, celebrities and members of the media industry have raised their voice on the matter, posting other advertisements with alleged 'dancing' and 'vulgarity' that PEMRA took no notice of, yet when it came to the matter of Mehwish Hayat dancing in a biscuit ad. Nobody questioned the Jazz Budget ad, Tarang hi Tarang ads or Gala Noor ad, PEMRA did not seem to find an issue with dancing and similar content which the regulatory authority seems to be strongly against.
Celebrities such as Anoushey Ashraf, Mashal Khan, Anam Tanveer and others have come out to criticise PEMRA's 'selective justice' regarding what to ban or what not to ban. It could be said that the 'Chai Wala Biskut' ad could have been banned to, yet that airs quite frequently, and many are attesting that 'real' issues going on in the country are being ignored.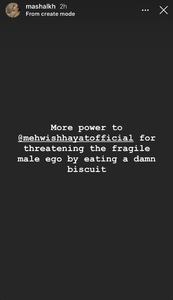 Many people have pointed out the unfair dynamic, ignoring other similar advertisements which netizens against the Gala Biscuit advertisement seem to have forgotten about, which brings the topic to mind, what is offensive about a woman dancing fully clothed in a biscuit ad when many others have done it before. Then can the moral fabric of olden day films be questioned where women are objectified? Or, are all other ads to be left out of the equation simply because PEMRA deems it so, suddenly wanting to bad this one.
This way one can address the Kurkure Advert featuring Hania Aamir and Ahmed Ali Butt as well for 'dancing' while snacking, which strengthens the point of banning a biscuit ad that holds no grounds for disapproval. It seems PEMRA has been active when it comes to banning specific ads.
We wait to hear the justification behind it as celebrities continue to come out and support Mehwish Hayat and an over all cause in Pakistan, to take action about things that matter instead of censoring every disagreeable product instead of simply ignoring it like the other ads have been.