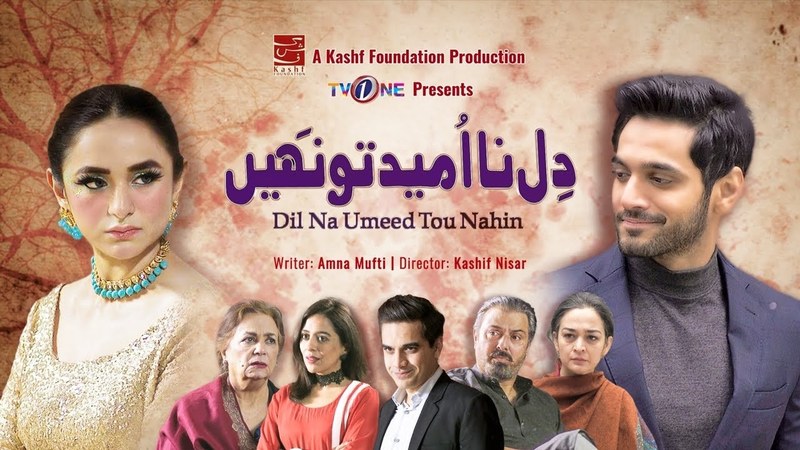 'Dil Na Umeed To Nahi' is a must-watch with its intriguing storyline!

From the makers of famed dramas such as Udaari, Rehai, and Akhri Station comes another blockbuster in the making, "Dil Na Umeed To Nahi". Produced by Kashf Foundation that works towards empowering women this drama covers a number of topics such as prostitution, child kidnapping and the rights of a girl-child. Dil Na Umeed to Nahi is directed by Kashif Nisar who has a number of accolades under his belt, while it is penned down by Amna Mufti.
The Story So Far.
Dil Na Umeed to Nahi follows the story of call girls Sumbul (Yumna Zaidi) and Saver (Yasra Rizvi), they live in a house owned by an 'Aunty' and are guarded at all times. As the story progresses we find out Sumbul was abducted and sold as a child from her village where she was the innocent 'Allah Rakhi'. Rakhi's parents were ceramicists from an extremely under-privileged background who were also unable to afford their older daughter's dowry and had to take up a loan for it. The present storyline runs parallel with the past and we are also shown another story of a little girl Naseem Zehra who loves playing cricket on the street despite her father (Noorul Hassan) forbidding her from doing so due to 'Log kya kahengay'. Her mother (Samiya Mumtaz) offers her solace and shields her from her daunting father.
Back to the present, Sumbul raises her voice against the injustice she and the other girls are facing and tries to fight for one of the call-girl Ramsha who keeps being beaten up by one of their clients 'Pasha'. Episode 4 ends with a heart-breaking scene where Ramsha's dead body turns up at their house and Aunty ignores all of Ramsha's bruises and insists she died of a heart attack, Sumbul creates havoc and questions Aunty's authority. Savera takes her upto her room and asks her to calm down or she would soon be meeting the same fate as Ramsha's.
The Good- Power-Packed Performances By the Cast Deserve a Thumbs Up!
Yumna Zaidi is known for her jaw-dropping performances, she fits into her role as Sumbul effortlessly, one can't help but see the resemblance with her previous character 'Mahjabeen' from Pyaar Ke Sadqey in the scene where she is asked about why she went into the graveyard? She says "It was for helping out a donkey, why else?". This is where you realise she connects the donkey to the pet donkey, 'Tomato' she had as a child in her village in another life she led as Allah Rakhi.
Yasra Rizvi plays the older call-girl Savera who treats Sumbul like her younger sister, with perfect dialogue delivery and expressions. We love how she handles the hysteric Sumbul at all times, saving her from the dangers that are lurking around them.
The child stars steal the spotlight in the drama, be it Allah Rakhi, Jamshed or Naseem Zehra. We absolutely love Naseem Zehra's scenes where she questions her parents on why she isn't allowed to play cricket or why girls should not run around and play like boys do.
The Hip Verdict: DNUTH is not to be missed!
This highly anticipated drama can definitely be called the underdog on Pakistani television right now, even though it may not be talked about as much as the rest, maybe because it does not have a jealous sister gunning for her brother-in-law or a typical love triangle that we often get to see. However, Dil Na Umeed To Nahi is a thought-provoking, superb watch with an intriguing story line and a stellar cast that is the cherry on top.
What Needs Improvement?
The production quality, overall transitions between the scenes and connecting Sumbul's past with her present needs to be more refined, clear and easily understood by the audience. We must admit it was difficult connecting the dots, through the four episodes due to multiple storylines being shown together. With these tiny details being taken care of, the drama can be one of the most watched one in no time.
What's Next?
After a heart-wrenching fourth episode where one of the call-girls' Ramsha's dead body was brought to the house, we wonder what Sumbul will do next? Will she rebel against the Aunty? We are excited to see how Wahaj Ali will be entering the story and how it will unfold further.