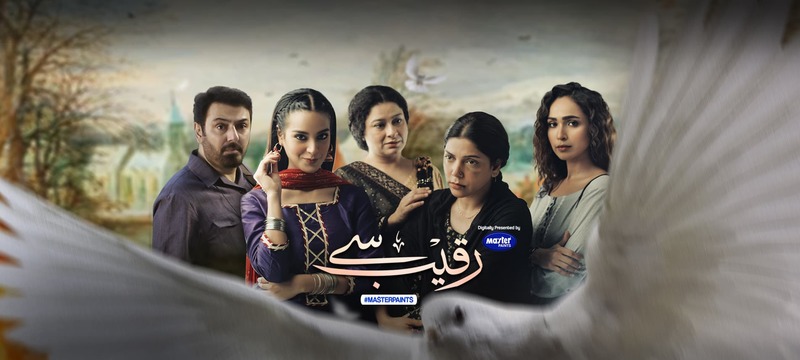 Raqeeb Se continues to enchant us with its engaging script.

Raqeeb Se is the work of director-writer duo Bee Gul and Kashif Nisar who previously worked together on Darr Si Jati Hai Sila. The drama is inspired by Faiz Sahab's poem and has managed to keep the audiences hooked to its engaging storyline. With an impressive cast and tremendous performances, Raqeeb Se has made it to our must-watch list this season!
The drama boasts of a stellar cast which includes, Noman Ejaz, Sania Saeed, Hadiqa Kiani, Iqra Aziz, Faryal Mehmood, and Saba Faisal. The ladies are definitely stealing the spotlight here. Each has added her own zing to the play and we can't imagine this drama without either of their star-power.
The Story So Far
Sakina (Hadiqa Kiani) fails her attempt on running away from the city with Ameera (Iqra Aziz). The following day Insha (Faryal Mehmood) is asked to take the two women shopping for clothes as their bags were left on the train, she refuses to do so and questions her father on the reason for helping them out when she was the one who wanted them to return to their village. Sakina and Maqsood have a heated argument after Ameera tells him they visited his older brother's house. Maqsood forbids Sakina from stepping outside the house and threatens to shoot her if she chooses to cross her. After the chaos is over, Hajra lends her shoulder to Sakina to cry on and consoles her. On the other hand, Insha's beau Abdul-Rehman has reservations with her and thinks she would leave him for someone who earns more or is better qualified than him. Insha ensures him she is highly invested in this relationship and loves him dearly. Later on, Insha discloses her relationship with Abdul-Rehman to Hajra as well. The episode ends with Sakina's husband Rafiq Ali's arrival at Maqsood's house.
View this post on Instagram

Performances by the leading ladies that are an Absolute Treat to watch! Sania Saeed's character may seem confusing to everyone watching the play, not only is she too good to be true, but it actually feels like she genuinely and truly cares about Sakina and her daughter, who has been her husbands' first love that he's never forgotten. The scene that had us in tears was when Hajra recites a page from Maqsood's diary about Sakina. Sania Saeed read the lines with such sadness in her voice and pain in her eyes, we couldn't help but feel sorry for the poor Hajra who was never a recipient of Maqsood's love.

Hadiqa Kiani as the innocent, 'bechari' Sakina is at par even though this is her debut performance, she is just as good as the veterans, Sania Saees and Noman Ejaz that she is paired with. Her fiery argument with Noman Ejaz was riveting to watch.

Saba Faisal as the rich feudal lady will have you smiling with her brilliant dialogue delivery, that perfect accent and even her over-the -top dressing is a treat to watch.