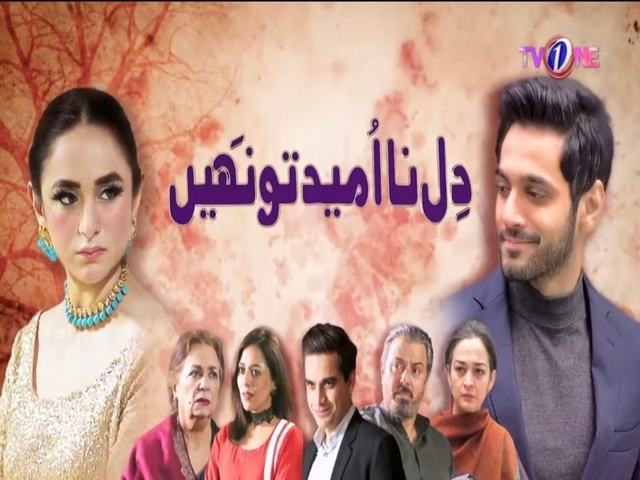 The drama which has already faced hurdles along the way from the regulating body, Dil Na Umeed toh Nahi talks about the many social evils prevalent in our society. The different narratives cover prostitution, corruption, dowry, forced begging, polio, girl-child education and the unfair feudal system! This story oh never losing hope is an eye-opening and captivating watch!
The play boasts of a stellar cast that includes, Yumna Zaidi, Yasra Rizwi, Omair Rana, Kashif Mehmoos, Samiya Mumtaz, Iftikhar Iffi, Noorul Hassan, Noman Ijaz and Wahaj Ali. A special mention must be made to the child actors who play Allah Rakhee, Jamshed and Nargis Zehra, they truly have given applaud worthy performances.
The Story So Far
The last episode saw Jamshed being caught by the police, after questioning he gave up the name of Baba Ranjha (Iftikhar Iffi) and his beggary racket. However instead of protecting Jamshed the police took a bribe and put him into jail, we later see how Ranjha has a good rapport with the policemen and gives them instructions on how to handle the boy in the juvenile detention centre.
Nargis Zehra who has dreams of becoming a cricketer convinces her new principal to let her play the game and the principal agrees by hiring a coach too. Nargis is ecstatic and promises to get the rest of the girls ready to take part in the sport too. However, things are totally dire at her house where a simple fairytale book, 'Cinderella' has been deemed immoral by the notorious Nadeem Sherwani (Kashif Mehmood), while Nargis' gullible father Qari Sahab (Noorul Hassan) agrees blindly to whatever Sherwani instructs him to do.
Back to the present, Sumbul (Yumna Zaidi) has finally come to terms with her past and has remembered who she was. She speaks about herself as Allah Rakhee to Savera (Yasra Rizvi) and says she was sold off to a man named Naveed after being married to him, she talks about how her father was unwilling to do so but had no say over her mother who was greedy for the money being offered in exchange for her child. Sumbul's memories have returned after being buried deep-down and this causes her to have a mental breakdown where she hauntingly keeps repeating who she is and what she must do. We are also shown an insight into the bond that Sumbul and Savera share, the two girls have always been there for each other, Savera protected Sumbul as an older sister almost like a mother. We are yet to see whether Savera will be able to save Sumbul from the aunty and her henchmen in the upcoming episodes.
Yumna Zaidi's Nervous Breakdown Left us Speechless!
Yumna Zaidi is an actress who needs no introduction, after giving some notable performances in Pyaar ke Sadqey, Dar Si Jati hai Sila, Ishq Zahe Naseeb, however, her portrayal of Sumbul in Dil Na Umeed toh Nahi takes the cake!
Zaidi's nervous breakdown as she narrates her story as Allah Rakhee to Savera was heart-wrenching, she then began whirling around like a dervish which was beyond anything one could imagine. Brilliantly acted, this scene "Main Allah Rakhee Hoon" is bound to leave you in tears.
Jamshed's Story is Similar to Many!
Watching the innocent Jamshed go through the hardships he is faced with has been difficult to watch. The situation is dire and makes us think about the thousands of children on the streets stuck in this situation, wanting to get-out but can't as the system pushes them back in no matter what!
What's Next?
Will Sumbul try to escape again from the brothel she's chained to? Keep watching Dil Na Umeed to Nahi every Monday on TVOne.