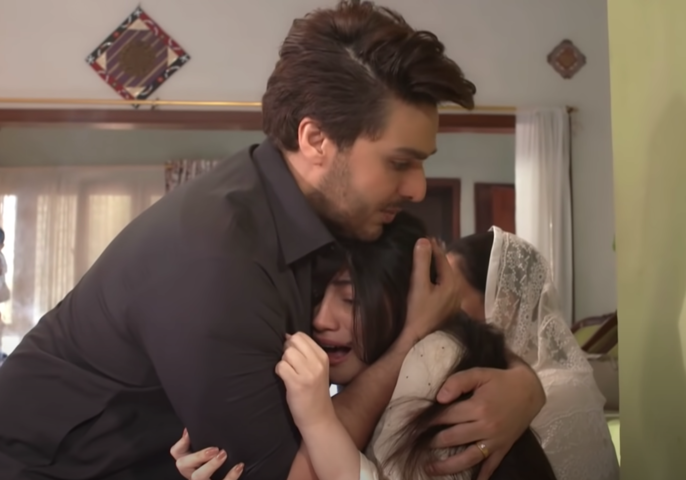 Qayamat continues to keep its audiences hooked, obtaining a fantastic achievement of 8.1 TRPs!

Qayamat's 26th and 27th Episode raised the bar with brilliant performances by the leading duo Ahsan Khan, Neelum Muneer and the veteran actors Noorul Hassan, Shabbir Jan and Saba Faisal. Qayamat brings unexpected twists and turns with intense drama to its riveting storyline as it reaches its climax.
The Plot
Ifrah (Neelum Muneer) and Rashid (Ahsan Khan) have certainly been acting differently with each other, during some of their scenes we do believe we saw Ifrah crack a smile too shockingly! Do we sense a turn in Ifrah's relationship with Rashid? It truly does feel like the case. The increasing closeness between the newlyweds is becoming intolerable for Rashid's mother (Saba Faisal) as she experiences a jealous rage towards Ifrah who seems to have both Mukhtar Sahab (Shabbir Jan) and Rashid on her side. Consumed with jealousy, she decides to fake a migraine and ends up having to take an injection for it aswell, however just as she is speaking to her sister Nadra over the phone, Mukhtar Sahab overhears her plans and expresses his disappointment to her.
In the meantime, Ifrah's parents are busy visiting the doctors for Afia Bibi's upcoming heart surgery, finally they have the means to pay for the operation without any financial issues, Fayaz (Noorul Hassan) excitedly shows Afia the new bungalow he has acquired for them and wishes to give her all that he couldn't in all the years they had spent together. However, his happiness is short-lived as Afia has a heart attack. Ifrah and Rashid rush to the hospital where they receive the unfortunate news that Afia Bibi is no more. Due to her ongoing battle with heart disease, the recent attack she suffered from led to her death. Rashid steps up as a husband and son-in-law during this difficult time and manages to condole both Ifrah and her father, Fayaz (Noorul Hassan). Ifah turns towards her husband Rashid in her grief as her mother-in law Nargis and her sister Nadra watch disapprovingly.
Neelum Muneer & Ahsan Khan's chemistry is off the charts!
The duo who had been fighting since the first episode are finally getting cordial with each other, we are loving the banter between the two leads. The latest episodes have shown a new side of Ifrah, one that is willing to let go of the grudge she has been carrying around since her sister Samra died. The daggers the audiences expected seem to be turning into cupids arrows as the two become fond of one another and start accepting the relationship between them. We love how Ahsan Khan is changing for his daughter and wife Ifrah and also taking care of her and consoling her in every way possible.
Neelum Muneer's acting in the last few scenes when she loses her mother are heart breaking to watch and prove her mettle as a brilliant performer once again!
Saba Faisal as Nargis Nails her avatar as the Mother-in-law from Hell!
From manipulative tactics to flat out conniving plans, Nargis is the mother-in-law that cannot see her daughter-in-law happy at any cost. Saba Faisal's heartless behaviour towards Ifrah even when her mother Afia passes away will make you hate her character even more! Instead of realising her wrongdoings she seems to be on the path to destroy Ifrah at all costs, even after her husband repeatedly warns her and schools her of her mistakes, she doesn't seem to pay any heed.
What's Next?
Are we going to see Ifrah and Rashid fall in love in the coming episodes? We can't wait to see how their story progresses further!