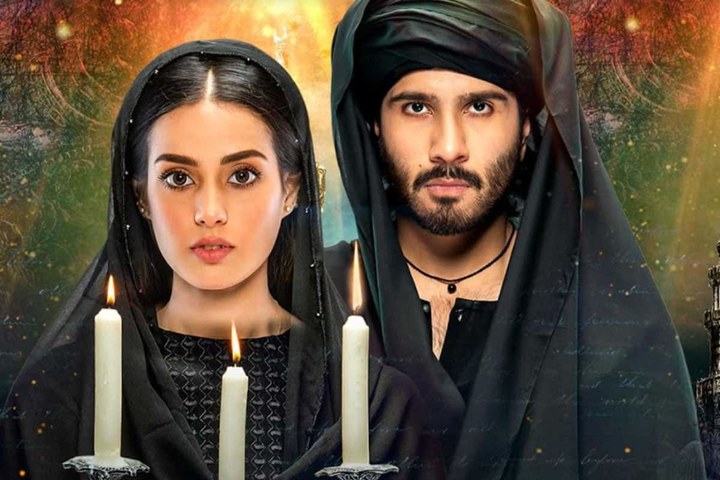 Phenomenal performances and an intriguing storyline make this play a must watch!

With nine episodes in, what is it about Khuda aur Mohabbat that has audiences waiting anxiously for its weekly episode to air? The Feroze Khan and Iqra Aziz starrer has been an instantaneous hit with the viewers and is reaping a smashing TRP of 12.8, trailblazing ahead of its counterparts. With power-packed episodes and an intense storyline, Khuda Aur Mohabbat has us hooked!
The Story So Far
Farhad (Feroze Khan) has now taken over the role of a sad 'devdas' who hardly says a word to anyone but diligently continues to work in hopes of catching a glimpse of his love, Mahi (Iqra Aziz). After Mahi rejected him brutally, she is now all set to become a 'Multani Jageerdani' as Taimoor's mother (Hina Khwaja) has happily accepted her as her son's bride to be. However, it is not just Farhad feeling the pain of losing his love but it seems like Mahi has begun feeling guilty for leading him on while it was all just a silly game to her. Mahi's confidantes her Bhabhi (Sunita Marshal) and her maid Fakeera have been helping her send out messages to Farhad in order to persuade him to leave but have failed to do so. In an unfortunate turn of events, Farhad is hit by a bullet on himself while shielding Mahi's older brother and driving him to safety while being injured. The news has Mahi worried for Farhad's health, has she begun to care for his well-being or is she worried her family will find out the real reason behind Farhad coming to Bahawalpur? On the other hand, Mahi's family is all set to welcome Taimoor into their family and have begun sending out sweets to announce the joining of the two prestigious families.
Here are 5 reasons that will definitely convince you to watch Khuda Aur Mohabbat Season 3:
An Intriguing Storyline!
From the ongoing storyline we can definitely tell that Farhad will be left pining for Mahi and through this pain he may turn towards a greater power and leave the wordly chaos for a life of devotion. An air of mystery surrounds the drama and that is what has caught our eye. We are anxious to see what's in store for the star-crossed lovers.
The drama Boasts of a Stellar Cast!
Khuda Aur Muhabbat has a huge band of star actors performing. Each cast member brings their own persona to the play and has a story of their own. From the love in the name of friendship that Wilayat (Saqib Sameer) has for Farhad to Asma Abbas as Farhad's mother who is feeling the pain her son is going through, demonstrating the power of a mother's love. Khuda Aur Mohabbat would be incomplete without each actor and we can't wait to see how the various characters progress as the plot thickens!
Feroze Khan and Iqra Aziz's On-screen Chemistry is Off the Charts
During the first few episodes when Mahi was attending her friend's wedding was when we saw Feroze Khan and Iqra Aziz perform magic on-screen together! We loved watching the banter between the two and they brilliantly performed their roles, making us fall in love with the gorgeous couple.
Brilliant Direction and Production
From the gorgeous and picturesque set locations to the magnificent havelis, shrines and monuments, the show has nailed a grand-ness unlike any other. Under the brilliant direction of Syed Wajahat Hussain, Khuda Aur Mohabbat is a treat to watch. We love how the latest episode showed the Multani jagirdarni and her son having breakfast where the table was laden with Multan's famous blue pottery vessels. Minute details like these are what make the show highly relatable and relevant to the viewers.
An OST to die-for!
The title OST for Khuda Aur Mohabbat sung by the legendary Ustad Rahat Fateh Ali Khan will have you moving to its tune in no time. His soulful voice coupled with the beautiful lyrics are perfect for the romantic-tragedy drama.
If you've still not caught up with this magnificent piece of art, what are you waiting for? Watch Khuda Aur Mohabbat every Friday at 8 PM on Geo Television.