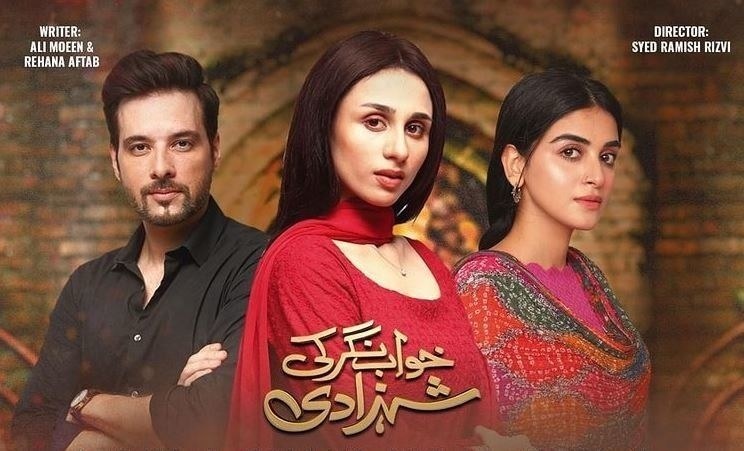 Khwaab Nagar Ki Shehzadi on ARY Digital boasts of a stellar cast that includes Mikaal Zulfiqar, Mashal Khan and Anmol Baloch in the leading roles. The play is another mega-project under the banner of iDream Entertainment and is directed by the brilliant Syed Ramish Rizvi.
The Plot
Meera's (Mashal Khan) situation at home seems to be getting worse day by day, first she was betrayed by her husband who cheated on her with their maid Sehar (Anmol Baloch). As if this was not enough, Sehar the diabolical master-mind made sure Meera had a miscarriage by making the bathroom floor slippery. To further make things worse, Sehar has Saim (Mikaal Zulfiqar) wrapped around her finger and it seems like he only understands or believes what she has to say, she has him convinced that Meera purposely fell down in order to loose her unborn child. With tricks always up her sleeve and planning with her sister Samina, Sehar seems to be getting away with everything and now has Saim and his mother believing Meera is trying to kill her as she is jealous of her pregnancy. Meera has finally decided to fight back and threatens Saim with a court case in order to fight for her divorce and to acquire custody of their child. Instead of regretting his actions, Saim since to be on the path of destruction where it seems like there will be no return towards Meera or their marriage.
The Good- Mashal Khan proves her mettle with power-packed performances!
Playing the leading lady Meera, Mashal Khan has shown us what a great actor she really is, portraying the role of a woman who has been cheated on, Meera has performed brilliantly, when she cries the audiences are sure to weep with her while her scenes where she shares her frustration and anger are also ones that will make you watch in awe at her fabulous acting skills. Over the run of Khwab Nagar Ki Shehzadi we've seen Mashal Khan is various roles, a caring employer almost like a friend to Sehar, a loving wife, a broken shell of her happy self and finally she's had enough betrayal from all around her and we're finally witnessing the fighter Meera that is out to protect herself and her son from Sehar and her evil doings.
Kudos to Mashal Khan for pulling off this scene effortlessly!
The Bad
A play that seemed to be different from others since everyone blamed Saim solely for what he did is slowly becoming another run off the mill drama. Meera is being held responsible for everything by Saim and his mother who previously couldn't stand anything negative being said about Meera. Why did the story need to have this twist where Meera has to defend herself against all and prove her innocence time and again.
Lots of questions are burning through our minds as we watch Khwab Nagar Ki Shehzadi's storyline unfold, the mother-in-law who loved Meera just like her own daughter and hated Sehar to bits is all of a sudden in love with her new daughter in law Sehar. How could Saims mother, the only person who fully supported Meera at all times suddenly side with Sehar over Meera?
Why is Sehar still calling Saim's mother Dadi? Isn't she her mother-in-law now? Little details in the drama here and there definitely need some fine tuning!
Watch Khwab Nagar Ki Shehzadi every Sunday at 10 PM on ARY Digital