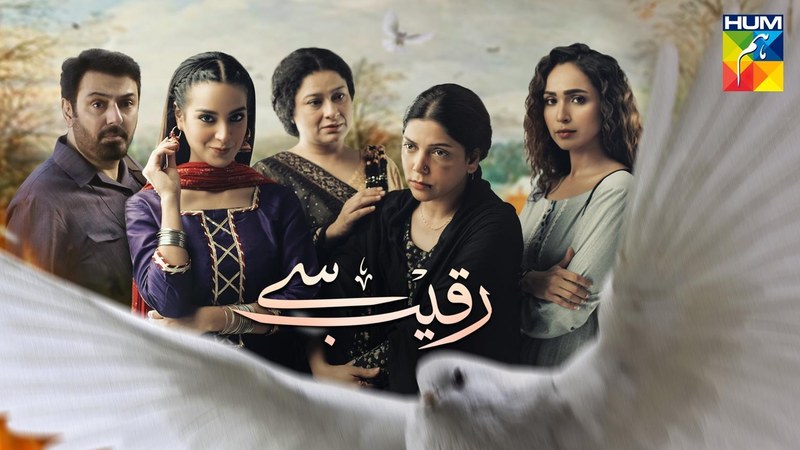 Raqeeb Se - a work of genius, came to an end with a tear-jerking finale!

A drama that was paralleled to none, Raqeeb Se came to a bitter - sweet end with this week's finale episode. A fresh take on what stories of love could be like, making it a good lesson for writers and directors on how to make a super-hit drama without showing the repetitive storylines of women fighting over one man or saas-bahu saga's. Raqeeb Se also made us realise you don't need long complicated, heavy dialogues to make an impactful scene. Expressions, simple conversations, a good background score and fantastic executions is most definitely the recipe to success. Bee Gul penned down this piece of art, a story that swept us off our feet, mesmerised us and left us weeping at the end!
The Plot
Sakina and Maqsood's famous love story becomes a thing of the past finally after each realises they have most certainly moved on. Insha discusses volunteering for work in a rural area, Maqsood wishes her well and confesses the mistakes he has made in the last two decades that have costed him a large part of his life.
Maqsood Sahab and Hajra finally start mending their relationship, Hajra seems happier and content after Insha makes her understand what she has been missing all these years when she didn't put herself first. It was heart-warming to see Maqsood bring 'gajray's' for Hajra and instead of feigning over them like she probably would have before, she remained seated while smiling lovingly. On the other hand Ameera reminds Sakina that she can do anything she wants because she has always been much stronger than anyone else for getting beaten by a man when she could have given him a beating of her own. After realising she doesn't need a man to live her life, she can do so by herself, she joins Insha in her posting at the rural camp.
Corruption and being a traitor to the country cost Masood his son Kashif's life, this tragic incident was perhaps written to show the viewers how karma works and also to enable Ameera to become independent, study and make a life of her own. Just as Kashif asked her to marry him, he was shot dead. The scene was not only devastating to watch but came as quite a shock to viewers.
Raqeeb Se Shocks Viewers With Tragic End to Kashif
We must admit, although Kashif was not a major character in the drama, he became Ameera's love interest in the last episode and just as we thought of the happy ending, he was killed. This broke our hearts and gave us quite the shock, this was definitely not what we expected. However, Bee Gul seems to have wanted to show the full circle, without him dying we wouldn't have seen Ameera take a different route then her mother although she was also put into a similar situation Sakina was twenty years ago. Ameera then chose to move on with her life and complete her studies instead of marrying Anwar the boy from her village in order to punish herself her entire life, the way Sakina had.
What we loved about Raqeeb Se?
The story of the four women and their journey to women empowerment that was portrayed in the play was a treat to watch. The realisation that no man is worth crying over and a woman's self-worth is what is most important in life was shown beautifully through Hajra, Insha, Sakina and Ameera.
Hajra re-started her career as a teacher letting go of Maqsood Sahab as the sole purpose of her life, Sakina working with Insha in an under-priviledged area after finally realising her self-worth, Insha who remained the fighter that she was even after the betrayal from Abdul and making her parents understand the mistakes they made in the last two decades, and lastly the firecracker Ameera who continued with her studies even after the man she was going to marry was shot right in-front of her.
Applause Worthy Performances by the Entire Cast
The legendary Noman Ijaz and Sania Saeed orchestrated magic as they came together on screen, each complimenting each other beautifully, every scene of theirs was a masterpiece! Songstress, Hadiqa Kiani was a pleasant surprise as Sakina, her portrayal of the role was phenomenal and we couldn't believe this was her first time performing on screen. We can't wait to see what she has in store for us next.
The most daring, poised, and confident character Insha was done justice by none other than the brilliant Faryal Mehmood, we are in absolute awe of her talent and acting skills, in her last scene where she reads Maqsood Sahab's letter, her expressions were enough to make one cry!
Iqra Aziz as Ameera in her scene with her father was heart-wrenching, as Rafeeq Ali spoke about Kashif's death, we couldn't help but weep while watching Ameera silently cry her heart out. This was the same Ameera who could never stop talking , made such an impact without uttering a single word.
Will we be seeing Bee Gul and Kashif Nisar working together soon? If not, we're definitely binge watching Raqeeb Se till then!