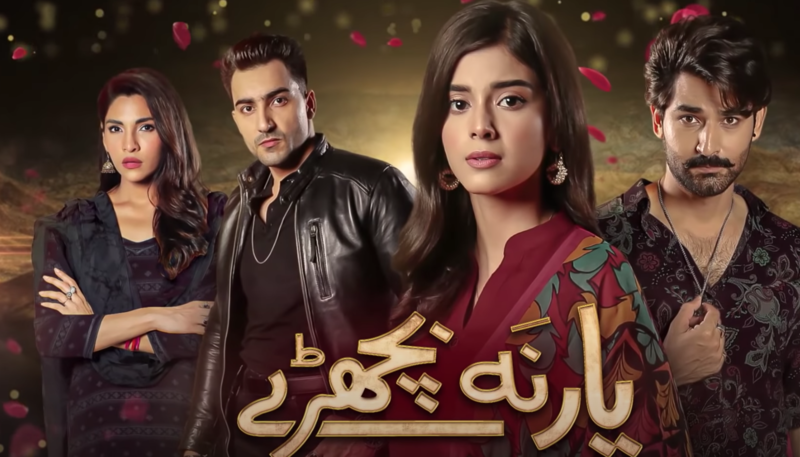 HUM TV's Yaar Na Bichray has been topping the TRP charts since its release, starring Zhalay Sarhadi, Zain Baig,...
HUM TV's Yaar Na Bichray has been topping the TRP charts since its release, starring Zhalay Sarhadi, Zain Baig, Zainab Shabbir and Hammad Farooqui, the drama follows an intense storyline with major twists that have left viewers shocked at every turn. Yaar Na Bichray shows an epic sibling rivalry between Fiza (Zhalay) and Azhar (Zain), family politics, lost-love, jealousy and betrayal. We can't wait to see how the story unfolds in the next few weeks as the drama progresses on.
**The Plot**Palwasha begins her search for a source of income in order to become financially independent so she can pay back Azhar and free herself from him, Azhar being the good husband that he is helps her out in every way possible by even convincing the boutique owners that his wife's designs were top notch. Palwasha finally gets the contract and gets orders for her designs, her road to becoming independent has finally begun and she thanks Azhar for all his help to help her achieve this feat. Just as their love story seems to have begun, Azhar is brought to reality after his mother forbids Palwasha from pursuing her career. Palwasha faces another hurdle with Fiza and her mother-in-law after her father decides to move in as he is scared of living alone after Sami has threatened to kill him.
Fiza has met the infamous Sami through a chance encounter (planned by Sami ofcourse) she seems to love the attention she's receiving from Sami and is looking forward to getting to know him. Little does she know he's only trying to get vengeance from Palwasha and Azhar through her. Fiza has been talking to him over the phone and is often thinking about him. Fiza is yet to learn the truth behind Sami's sudden affection.
Zhalay Sarhadi Gives an impressive performance as Fiza!
Zhalay Sarhadi plays the role of Fiza who is Azhars older step-sister. Suffered through her childhood with a mean step mother and ignorant father, Fiza has a bitter nature and is always bickering and fighting with her family . Zhalay Sarhadi has proved her mettle once again with her portrayal of Fiza, a character that we have grown to dislike with a passion, this certainly proves what a remarkable actress Sarhadi is. The recent twist in the drama which shows Sami's interest in Fiza is a great addition to the storyline, we are looking forward to the time when she finds out Sami's history with Palwasha.
Zain Baig and Zainab Shabbir make the cutest on-screen couple!
The duo, Zain Baig and Zainab Shabbir share a great rapport on screen, Azhar the rowdy shopkeeper with a 'tapori' look, has us impressed with his witty self, and comic banter with the rest of the cast. The two are finally sharing some much needed beautiful scenes together where they are not fighting or taunting each other and we definitely can't wait to see Palwasha fall in love with him too!
What's Next?
As Sami continues to make his move towards Fiza, will Fiza begin to fall in love with him? Watch Yaar na Bichray, Monday to Thursday at 9 PM on HUM Tv.