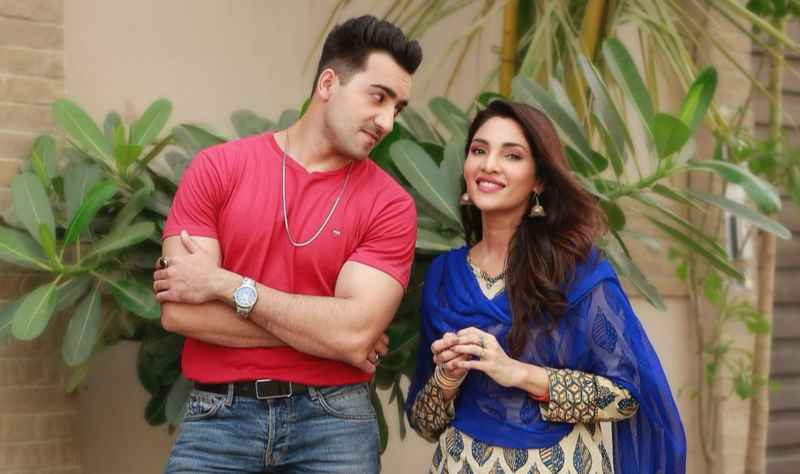 Zhalay Sarhadi impresses audiences with her challenging avatar!

HUM TV's drama Yaar Na Bichray starring Zhalay Sarhadi, Zainab Shabbir, Zain Baig, and Hammad Farooqui in leading roles has received a warm response from the audiences. The drama follows the story of Azhar (Zain Baig), his love interest Palwasha (Zainab Shabbir) and Azhar's sister Fiza played by Zhalay Sarhadi who is seen as the antagonist in the play. With a riveting storyline, Yaar Na Bichray is all about, sibling rivalries, family politics, vengeance, jealousy and betrayal.
The Plot
In a recent change of heart, Fiza's step-mother and Palwasha are on good terms while Fiza has been left out and she is not liking it one bit. Her friendship with Sami has increased over time but Fiza doesn't know the 'Wasi' she is falling in love with has completely blinded her and hidden his true self from her, she doesn't know he is the same Sami who has made Palwasha's life a living hell. The two have had multiple secret meetings and she spends most of her time on the phone with him. Azhar also figures out that it was Fiza who spilled the oil on the stairs which resulted in his mother having a deadly fall, he confronts her about it but she denies doing any such thing. Tensions rise between Fiza and Azhar but being the good brother he chooses to forgive her once again.
Things are finally getting better for Palwasha at her inlaws, after her mother-in-law fell down, she became the dutiful daughter in law and took care of her during her illness. While Fiza couldn't be bothered to help out at all, Palwasha grew closer to her mother-in-law and was finally accepted by her too. It seems like she is now working towards making sure Azhar and Palwasha lead a happy married life and is helping the two sort things out by starting off with a celebration for their wedding. However, Fiza was determined to not let that happen so she first burned the bride's dupatta and when that didn't work, she faked an illness so as to get the function cancelled at the last moment.
Zhalay Sarhadi plays the antagonist we all hate in Yar Na Bichray
Zhalay Sarhadi is playing one of the antagonist in the drama and has nailed the performance to a T. With every scene she comes in, her acting has been brilliant and she is definitely a treat to watch. We're loving the back and forth banter she has with Palwasha, Azhar and her step-mother. With lots of sass and attitude, Sarhadi has proven her mettle once again with her role of 'Fiza' the girl who is troubled by her past and childhood trauma and has been burning for vengeance ever since.
What's Next?
Will Azhar discover his sisters interest in Sami? Will Fiza find out the truth about Sami? Watch Yaar Na Bichray, Monday to Friday on HUM Tv.