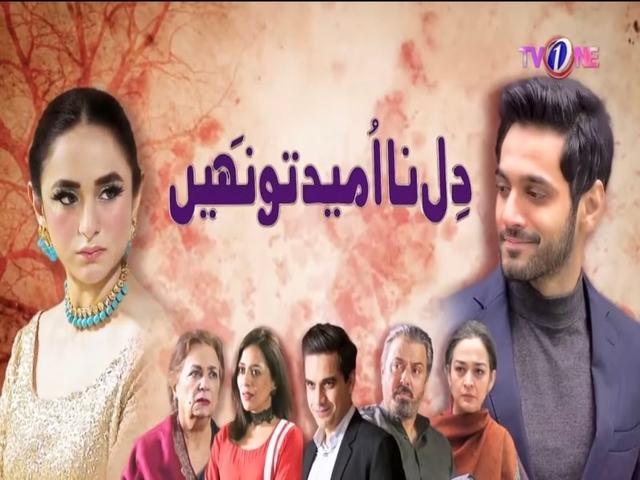 The multi-starrer Dil Na Umeed To Nahi has an intense storyline of never giving up hope that has viewers engaged!

The Plot
The story is picking up pace once again, with some major developments and shocking twists, the latest Dil Na Umeed Toh Nahi episode is one that has us totally confused and lost for words. While Sumbul (Yumna Zaidi) came to terms with the fact that everyone she thought she would meet from her old life as Rakhi had died or vanished never to be found again, Jimmy (Wahaj Ali) consoled her by showing her sketches of all their loved ones, including her father, the two bonded over their loss and reminisced their childhood moments spent together.
Naseem Zehra's (Fajjer Khan) escape to enter the world of cricket was cut short after she was saved by Zulfi (Omair Rana), saved or being trained for a greater purpose , we're still not sure about that! Zulfi explains to her how anyone can get deceived through social media and taken advantage of. He asks her if she would like to return home but she refuses saying she will be married off to an old man, Zulfi asks her to do as he says and takes her to his place saying she will be safe here.
A mysterious phone call about handing out money in exchange for someone is being made between Tariq Mehmood (Noman Ejaz) and Zulfi which leaves us baffled, the noble TM who runs women shelters and rescued Jimmy from a miserable life would be living such a double life? We can't wait to see what the next episode brings! We truly hope it does not shatter the little hope we had from humanity!
The Hip Review – Are You Courageous Enough to Watch DNUTN?
In order to digest this drama one needs to be brave enough and have a strong heart so as to bear the heart ache that comes with watching this show. Unlike the 'saas bahu' and 'sisters fighting over misters' sagas, this show takes up a lot of your energy and definitely leaves one thinking about the many societal evils present in the world we are living in today. From child marriage, beggary mafia, domestic violence, women trafficking, Internet fraud to prostitution, the storyline has covered it all! Every episode shows us the true and ugly face of the society we live in. Watching Sumbul and Savera's story we realise that the many women stuck in the vicious cycle of prostitution may have tried to escape the grasp of those in power but were probably silenced for doing so.
With a drama as powerful as this, the cast deserves a huge round of applause for their brilliant acting skills. Each and every role has been played exceptionally well. Wahaj Ali and Yumna Zaidi as Jimmy and sumbul have won our hearts, Yumna Zaidi continues to shine throughout each episode and performs even better with every new instalment. Samiya Mumtaz as Najma has shone through as Naseem Zehras mother, the way she handled the situation with Noorul Hassan's qazi sahab was commendable and we absolutely love her selfless attitude towards her children.
Zulfi and Tariq Mehmood (TM), Saviours or Captors?
The Mysterious Zulfi (Omair Rana) and Tariq Mehmood (Noman Ijaz) both we believed as the good guys have us utterly confused after the latest episode. On one hand Zulfi has saved Naseem Zehra from being sold into prostitution while on the other hand he is busy meeting the baray Sahab and speaking about 'new shipments' coming in. Noman Ijaz has us utterly shocked, is he also one of the bad guys? We don't want to believe this as he saved Jimmy selflessly and adopted him as his own, but him accepting cash in the middle of the night and speaking over the phone with Zulfi has us thinking otherwise. Are we going to experience yet another heartbreaking twist when we find out Tariq Mehmood's true face?
Kudos to the Masterminds behind the brilliant show!
What began as three different tracks are now slowly merging in to one beautifully written masterpiece. We've seen how Rakhi and Jamshed's stories have intertwined, furthermore, Naseem Zehra's narrative is also being connected through Zulfi who in turn as we've just realised is somehow working with Tariq Mehmood. Kudos to Amna Mufti who is the writer behind Dil Na Used toh Nahi and tit is yet another feather in the cap for director Kashif Nisar who has brought this piece of art to life.