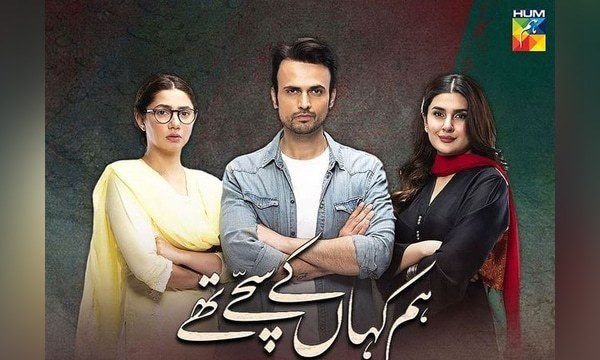 We also want to talk about Kaif Ghaznavi who is sneakingly grabbing the spotlight in the plot.

Things just went into power mode in Hum Kahan Ke Sachay Thay's episode 4 with Usman Mukhtar's much-awaited entry in the story.
However, not all drama-buffs are ardent fans of the story. Some concerns have been raised on social media, being the plot being yet another tale highlighting a love triangle between cousins and even showing child labor.
But one thing is for sure. The tempting trio of Mahira Khan, Kubra Khan, and Usman Mukhtar along with Umera Ahmed's plot has been enough so far to pique the interest of the viewers.
Lets' take a quick throwback of what happened yesterday and how the character of Aswad has taken charge of the plot.
The smear campaign against Mehreen continues
The episode opens with a breathless Mehreen, gasping for air as she encounters Mashal (Kubra Khan) and her 'mami', Shagufta on her way to desperately get an inhaler from Saifi (Haroon Shahid) to save her life.
She is in tears, looking helpless as her friend Saifi tries to calm her down. Her hatred for Mashal amplifies and with Aswad landing in Karachi, things get even uglier between the two cousins.
Our hero is astounded to see the décor done in his home in the city. His mother (Huma Nawab) informs him that all the magic has been weaved by Mehreen; the paintings, the renovation, and the arrangements done in the rooms.
There Aswad spots a painting signed by Mehreen and goes into a flashback where Mashal had shown it to him, claiming it as her work. He is confused and immediately thinks that Mehreen has lied to his mother about the artwork being painted by her.
However, our male protagonist is immediately whisked away by Mashal who tells him that they should go for an outing. During their candid lunch, Mashal continues to defame Mehreen, telling Aswad that their cousin has lied about owning the painting and has taken all advice about decorating the house from her.
Later, she invites him to her home where Aswad spots an unpleasant scene- Mehreen and Shagufta in a heated debate about the electricity bill. Instantly, the vile Shagufta dons an innocent attitude to exhibit as if Mehreen has been misbehaving with her while in turn, she was unjustly reprimanding her for consuming a lot of electricity in her room.
Poor Mehreen, yet again, becomes a villain in the eyes of her crush. Consequently, she decides to avoid the dinner at her home with Khala and Aswad gracing the occasion. Mashal pretends that she has cooked the whole feast while Shabbo (Kaif Ghaznavi) has prepared the extravagant meal.
During dinnertime, the topic centers around Mehreen's absence. Everyone from her Nani (Shameem Halali), mamu (Ali Tahir), Mashal, and Shagufta begins an anti-Mehreen drive at the table while comparing how Mashal is so much better than her.
But amidst all the negativity, the drama ends on an adorable note! Aswad spots Mehreen hiding at home, trying to catch unripe mangoes to make chutney for her simple dinner. Later, he catches her in the kitchen while our heroine is hilariously making fun of him behind his back.
From here begins their sweet interaction as Aswad apologizes to her for misbehaving on call, appreciates her for decorating the room, and invites her to visit his home. Their candid chat is overheard by Mashal who is green with envy and is ignorant of the fact that Aswad's mom has made her mind- she will make Mehreen and no one else her daughter-in-law!
Kaif Ghaznavi's performance deserves a mention
It has been four weeks since Hum Kahan Ke Sachay Thay started and the cast of crème de la crème of entertainment fraternity are already seizing the spotlight for their top-notch performance.
But today we want to talk about Kaif Ghaznavi, who has been sneakily grabbing everyone's interest for her hilarious portrayal of Shabbo- the house help in the story.
She is a firecracker and extremely cute in her avatar! Her expressions are on point and the story will be no fun without her character along with her apt performance. Shabbo makes us laugh and even makes us hate her when she teams up with Mashal against Mehreen.
However, we loved how she helps Mehreen in this episode in collecting unripe mangoes so our heroine can eat her dinner.
We are excited about the next episode and hope that Aswad begins to see the true face of Mashal- the real baddie in the plot.