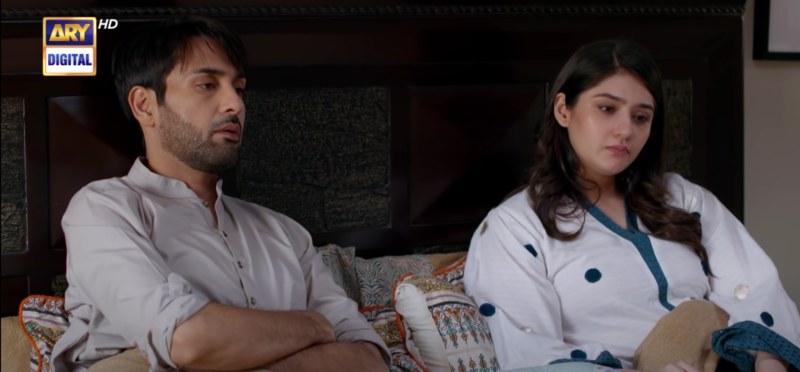 Emotions rise in Pardes as the story takes another intense turn after Ebad accepts a job abroad!

ARY Digital's Pardes has made quite the stir due to its brilliant star cast which includes Sarmad Khoosat, Shahista Lodhi and Dur e Fishan Saleem and Affan Waheed in leading roles while it has Bushra Ansari, Gohar Rasheed, Sharmeen Ali, Jenaan Hussain, and Atiqa Odho in prominent roles. Directed by Marina Khan, penned by Sarwat Nazir and produced under Six Sigma production, 'Pardes' has a gripping narrative, a perfect execution a great script, it is one play that should be added to your must-watch list.
History Repeats Itself With Aiman and Ebaad!
The recent episodes have seen history repeating itself where we saw a stark similarity between Aiman and Zubaidas lives, both had to live life on their own with a small child while managing the household responsibilities too. Aiman has been frustrated and is hating her new life without Ebaad, we do not blame her however as this is something she was never okay with from the beginning, but due to pressure from her mother in law Rahila and coaxing by Ebaad she was not able to force Ebaad into staying back. Ebaad had promised to be back before Aiman's delivery and thankfully he manages to do so just in time as he arrives just before she is taken in for the operation.
Aiman seems to slowly be heading towards a life that she watched her mother lead after her father left for a better work opportunity abroad. A very pregnant Aiman had to go through her entire pregnancy alone without the support of her loving husband. Although unlike Zubaida, Aiman's mother in law has been supportive and did take good care of her.
Aiman's happiness is short-lived when she finds out Ebaad is only there for a little while and he has to return soon after the baby is born. Things heat up between the love birds when pressures escalate and the distance between them has started taking its toll too. Ebaad feels he is doing his best by providing for a better future for their child while Aiman believes he should be present in his son Ahsan's life as she fears he would turn out the same way her brother Zaid did without her father. To make things worse Aiman's visa gets rejected and she is unable to move to England to be with Ebaad.
Ebaad's brother and sister-in-law decide to take Aiman's side!
As relationships between the two families have become better, Rija and Rohail have noticed how isolated and depressed Aiman has been feeling since Ebaad has left. Rohail speaks to his step-mother Rahila and tells her it is unfair for Aiman to be left here while her husband is away and advises her to call back Ebad from England and settle back in Pakistan. Rija asks Aiman to start working to get herself busy, Aiman decides to do so and goes against Ebaad's wishes by applying for work.
Aiman Becomes Independent!
Aiman is now on her way to become independent and we believe this is what will make her stronger and will help her take a stand for herself and her son! In the next episode we see a very angry Aiman asking Ebaad for a divorce, will this be the end of their marriage? Watch Pardes every Monday on ARY Digital at 8pm.