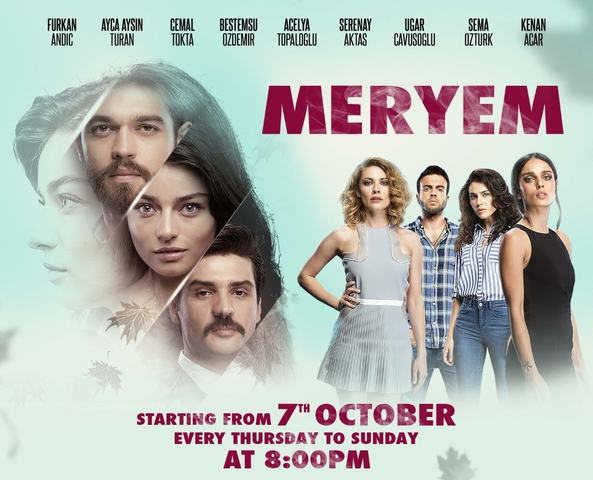 Meryem is a story of love, vengeance, lies and betrayal with a hint of a mystery brewing!

Turkish drama fans are in for a treat, Express Entertainment is launching a new Turkish series 'Meryem' that is sure to have audiences hooked with its riveting storyline. Meryem is a story of love, vengeance, lies and betrayal with an engaging narrative that hints of a mystery leaving audiences asking for much more with every episode.
What is Meryem About?
The series follows the story of the titular character Meryem, the sly prosecutor Otkay and the plaintiff Savas. The three characters come together after an unfortunate hit and run accident, the young woman played by Meryem readily sacrifices her life and takes the blame for the accident in order to save her beau Otkay who she has supported all the way through law school. Little does she know that Otkay has no plans of proposing to her and instead has been seeing someone new behind her back. We are anxious to see how the drama will unfold after Meryem discovers the Otkays lies and his betrayal and begins to stand her ground against him and his web of lies. Will she get her happy ending with Savas after he discover she was not at fault for the accident or will Otkay have the last word as he burns with the desire for power and greed.
Meet the Team Behind Meryem
The lead character Meryem is played by the gorgeous Ayca Acin, the plaintiff Savas is played by Furkan Andic while Otkay is essayed brilliantly by Cemal Totkas. The mastermind behind this project is Emre Ozdur. The melodious OST sung by songstress Anural Khalid is all that you need to hear right now!
Express Entertainment is bringing you a love triangle that is going to be a game-changer. With a love story like no other, Meryem is bound to have viewers on the edge of their seats in anticipation as to what's coming next. Find out what fate has in store for Meryem, Otkay and Savas as the three navigate through events that are shrouded in secrecy, greed and the desire for power. Catch 'Meryem' on Express Entertainment on Thursday, 7th of October for the premiere and watch the show every Thursday to Sunday at 8.00 PM.