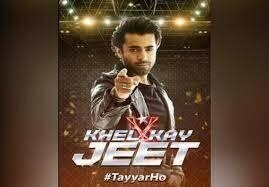 Sheheryar Munawar is ready to raise the bar for game shows in Pakistan this Ramadan, only on Express TV! Just when...

Sheheryar Munawar is ready to raise the bar for game shows in Pakistan this Ramadan, only on Express TV!
Just when you thought nighttime television couldn't be more interesting, Express TV has another surprise up its sleeve starting from the first of Ramadan. Known for his exceptional performances in popular dramas like Sinf-e-Aahan, Pehli Si Muhabbat, and Pakistani films, such as Parey Hut Love, Sheheryar Munawar is all set for Pakistan's biggest game show yet, and ready to play the game, Khel Kay Jeet.
What is Khel Kay Jeet?
Khel Kay Jeet is an exciting new post-iftar game show where our local audience participates in physical games and brain teasers, including various obstacle courses, slippery steps & slides, team games, question-answer sessions, athletics, and much more, for a pretty great list of prizes! Much like the title, the show is all about playing for keeps, and playing to win for a bunch of super exciting gifts and goodies, of course.
Why Watch KKJ?
Firstly, Sheheryar Munawar is hosting it. Known for his energetic persona, the Ho Mann Jahaan star is the ideal personality to spice up the stakes in Khel Kay Jeet, keeping the audience hooked and working hard. When it comes to game-shows in Pakistan we expect the mainstream genre of silly jokes, slapstick humor or just plain fun; but Express TV is taking things up a notch with some healthy competition and invigorating new games with viewers that are bound to get your mind and body working.
What to Expect in KKJ
When it comes to a game-show, Khel Kay Jeet is leveling up with its selection of activities, including both physical and mental ones that keep participants active and alert! Khel Kay Jeet is all about working hard to win, because hard work determines a significant reward.
During Ramadan, people tend to lean towards a calmer, more spiritual approach in terms of their daily routine. After opening your roza, what better way is there to unwind than to spend time with your family watching this season's most exciting new game-show? Not only is Express TV bringing you variety and range, but Sheheryar Munawar is hosting this game-show, with a number of surprises yet to be revealed!
So, as the tagline says, Tayyar Ho?
For more updates follow our official social media platforms: https://www.facebook.com/ExpEntertainment https://www.instagram.com/entexpresstv/ https://twitter.com/EntExpressTV https://www.youtube.com/ExpressEntertainment