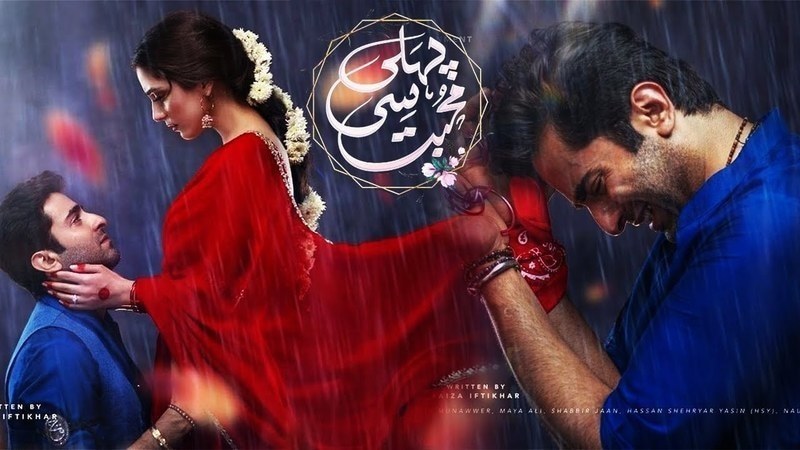 Penned down by Faiza Iftikhar and directed by Anjum Shahzad, Idream Entertainment's Pehli Si Mohabbat is a play...

Penned down by Faiza Iftikhar and directed by Anjum Shahzad, Idream Entertainment's Pehli Si Mohabbat is a play that has caught the viewers' attention with its fresh take on 'first' love. Starring Maya Ali and Sheheryar Munawar in the lead roles as Rakhshi and Aslam, this classic love story is a must watch!
Of Betrayal, Broken Hearts and Broken Promises
Pehli Si Muhabbat has taken a sudden turn and brought forward some of the most heart-wrenching episodes we've ever seen on our screens! With Zainab's (Uzma Hassan) death and then funeral and Rakshi's wedding being called off, there have been some major developments in the story. This episode saw Rakhshi and Aslam come face to face after what seemed like an eternity however it was not at all as we had pictured it to be. An extremely distraught Aslam could not stand Rakhshi being present in his home and crying in his mother's arms. He blamed Rakhshi for his sister Zainab's death, his harsh words broke Rakhshi's heart into a million pieces and we saw her breakdown in front of her friend Munazza later on. Aslam had called her a coward for breaking her promise to him and said she had betrayed him on the night that they were to run away together when she decided she would not join him. He asked her to leave and told her he didn't love her anymore, he further refused to marry her.
New Beginnings for Rakhshi and Aslam
A very broken Rakhshi returned home and told her father that she was ready for whatever he would decide for her. Faizullah then decided it was time to get Rakhshi married off as soon as possible, he had already received a proposal for Rakhshi from their neighbour Asif, a widower with a teenage daughter and Faizullah was too burdened by what the society had to say about him and thought it was the best he could do to save his face.
On the other hand, Aslam decides to go back to the city with his maternal uncle and help him out at work. He was doing this to get away from Rakhshi since he was still in love with her but couldn't forgive her for his sister's death, all he could do was leave his hometown in hopes to forget her.
Rabia Butt Impresses Us With her challenging avatar as 'Nargis'
With hard-hitting dialogues, and statements that are sure to make you think hard and long, Rabia Butt's Nargis is bringing the wow factor to this play! We're absolutely in love with her character and her rendition as Nargis has been phenomenal!
Here's a snippet that definitely deserved a thumbs up!
Murad & Sikander are Unable to Cope With Zainab's Death!
The two men that Zainab loved are unable to cope with her death, Murad (Paras Masroor) her husband with whom she had a complicated relationship has nothing but regrets of not being able to understand that Zainab had always been faithful to him, he remembered the times she had said she had left her past behind and moved on but he had made her life difficult not believing her. Although we did share a love-hate relationship with Murad's character, our heart went out to him when he cried for Zainab!
The notorious Sikander who became the villain that we had never expected has been blaming himself for his beloved Zainab's death, having lost her years back he was not willing to lose her again and tried all that he could include threatening Zainab and blackmailing her to leave her husband for him. Salim Meraj's Sikander has been an absolute treat to watch in Pehli Si Muhabbat, from a person who was burning for vengeance to a person who was left heart-broken and shattered, Salim Meraj essayed his role perfectly!
What's Next for Rakhshi?
Rakhshi is all set to be married to yet another older man Asif, following in Nargis's footsteps, Rakhshi seems to be destined to have the same life as her. Will Aslam be able to understand her predicament and change his mind about marrying her or will this be the end to their iconic love story? Watch Pehli Si Muhabbat on ARY Digital every Saturday.