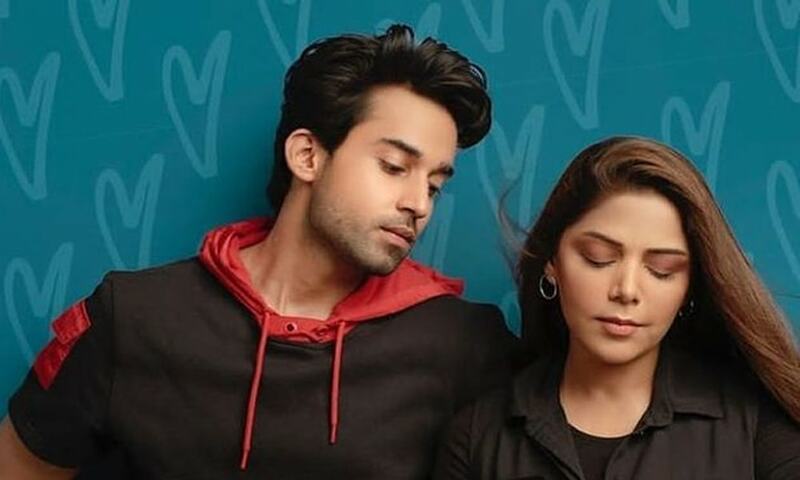 It is a tale that not only has tasteful humor but also showcases a bitter side of society that needs to be addressed.

Amidst depressing dramas like Hum Kahan Kay Sachay Thay, we are glad Hum TV has rolled out a story like Dobara. After all, a tale that not only has tasteful humor but also showcases a bitter side of society that needs to be addressed....
Starring Hadiqa Kiani, Bilal Abbas as the leading stars; the drama has us hooked with its three episodes. The plot might appear slow to some, but we are loving the light-paced plot and it leaves us craving for more of its sweet and subtle twists and turns.
Let's do a quick review of what happened last night in the story and what we enjoyed so much about the third episode of Dobara
A freed widow discovers herself again
We don't know much about Mehru (Hadiqa Kiani) and Hidayatullah's (Nauman Aijaz) marriage life- but it's apparent from the mini-throwbacks shown in the story that our widow led most of her life in submission and suppression.
Was she really her husband's puppet? It seems so. It is exhilarating to see her embrace herself all over again. We discovered that Mehru loved sports and got extremely enthusiastic when she saw the servants' kids play football in the garden. She couldn't help joining them, becoming a young girl herself who got burdened with marital responsibilities she surely didn't want to sign up for.
It was equally heart-warming to witness her daughter Minal (Maheen Siddiqui) support this new side to her mother. She expresses this to her Phuppo (Sakina Samo) who is quite a conservative woman, despite living most of her life in Canada.
Unfortunately, Mehru's son Affan (Usama Khan) has the typical loog-kia-kahengay-mindset and agrees with her aunt that his mother needs to control herself. After all, she is just a widow and needs to be in mourning.
However, our dear Mehru has never felt so empowered in her life. She puts on her tracksuit and goes out for a morning walk, breathing in the fresh air after a long, long time. This irks Affan and Hidayatullah's sister but our heroine pays heed to no one.
So much so, she aims to ditch her usual saree style that her deceased husband found so graceful, dons a shalwar kameez and heads out to do the shopping for herself with her daughter. While she is gorging on ice cream like a carefree teenager during her shopping spree, she is spotted by her son and his girlfriend (Sabeena Syed). It was heartbreaking to see that despite being so young, they viewed her outing as outrageous for someone whose husband has just passed away.
Meanwhile, our hero Mahir (Bilal Abbas) has landed himself in deep trouble. His casual attitude is making it difficult for him to land a job and his girlfriend Mehreen (Zoya Nasir) is pressurizing him to send a proposal. What's more, she has put forth the demand of gifting her some gold so that her mother gets impressed by him and his family.
Mahir, whose parents are divorced, finds the daunting task of visiting Mehreen's parents extremely challenging. However, he summons up the courage and talks to his mother (Angeline Malik) to support him and accompany him to Mehreen's home. Similarly, he discusses the matter with his father (Shabbir Jan) who too extends all his assistance in the matter. Now, the only problem for Mahir is to arrange the gold for Mehreen, and seems like he will resort to stealing some bangles from his evil stepmother.
The promo of the next episode shows the eventual meeting of Mehru and Mahir during one of their walks in the park. We are super excited to see this new turn in the plot and how this chapter will unfold in the drama.
Hadiqa and Bilal at their best
Dobara is not your average, cliched love story.
It seems like a saga that will be a dramatic eye-opener for all those possessing an orthodox mindset in our society. We cheer for Mehru when she follows her heart, proving that it is never too late to seize the day and live the dream. It is equally liberating to see that she is not essaying the role of the damsel in distress, donning a white saree or subtle colors to prove her melancholy. She is empowered, free and wants the world to know this.
No one could have played this role better than Hadiqa and she is proving this in every passing episode. She is a natural, looks graceful in this role and her acting prowess is at its finest. She should truly star more in dramas and sign for roles even more diverse.
Bilal Abbas is cute, eccentric, and hilarious as Mahir. We love how seamlessly he dons in every avatar and he has made us fall in love with his idiosyncratic character. He makes us laugh the way he deals with situations and the way he delivers his dialogue. The wittiness, the frustration, and the immaturity of his character are all impeccably portrayed by the actor.
We will continue to watch Dobara and we believe it will have a niche viewership. The audience who has a refined taste and craves to watch meaningful content will be addicted to this drama for sure.