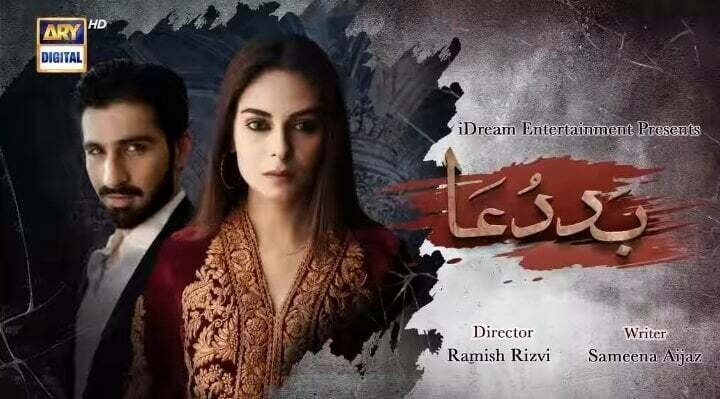 Baddua continues to keep its audiences hooked, obtaining a fantastic achievement of 7.2 TRPs!

Baddua is a drama based on a young girl, Abeer played brilliantly by actress Amar Khan. Abeer has always wanted the best for herself and has often crossed limits in order to achieve her goals. In doing so, she has become the 'black sheep' of her family. Abeer believed her marriage to Junaid (Muneeb Butt) was a dream come true but little did she know that her nightmarish life was just about to begin as Junaid married her simply out of spite!
The audience has been loving the weekly instalments of Baddua which has built up its momentum over the weeks with a gripping narrative and are waiting to see how Abeer and Junaid get what they truly deserve when karma finally catches up to them. Baddua features, Amar Khan, Muneeb Butt, Saba Faisal, Maryam Noor, Osama Tahir and Mehmood Aslam
![ ](https://www.instagram.com/p/CWXnpC7Nn9T/?utmsource=igwebcopylink
Is Abeer Getting the treatment that she deserves?
A flirty and vivacious person by nature, she strung along a sweet boy, Mohsin along for the ride and then dumped him when she found her ultimate love, the wealthy and handsome, Junaid. Mohsin couldn't bear this betrayal and committed suicide, his mother then showed up at Abeer's house and cursed her for life, praying she would never find happiness in life. It seems like the curse is taking effect on Abeer as her marriage to Junaid is already in shambles on the first day. A huge argument takes place between them after Abeer asks him not to visit her home as to save him from any embarrassment but he takes it the wrong way and resorts to violence by pushing her around. Further on, Abeer gets a hold of his cell-phone and checks out his messages where she finds him canoodling with another girl, sending her lust filled messages. Instead of apologising for betraying Abeer on their first day after marriage, he in turn blames her and slaps her across her face. Abeer is shocked and acts upon it quickly, she informs his mother (Saba Faisal), Bhabhi (Komal Rizvi) and his elder brother and they intervene and promise to solve the issue.
Abeer's family has been worried about the curse that Mohsin's mother (Salma Hassan) put on Abeer and it seems like they may have been right all along. While Abeer was ecstatic about getting married to Junaid, she was not aware that he was just stringing her along for the ride, the same way she had treated Mohsin earlier. The after effects of her wedding have been extremely traumatizing to her family and to make it worse she demanded her family to respect Junaid and argued with her grandmother causing her to have a heart attack, while Abeer left for her house, her 'daadi' was taking her last breath. Is this going to be the end of Abeer's relationship with her family?
Osama Tahir plays the 'good advocate' in Baddua Osama Tahir has essayed the role of Mohsin's cousin in Baddua brilliantly, we are yet to see how he comes to terms with the fact that his best friend is married to same girl Abeer who caused his cousin Mohsin to take the unfortunate step of committing suicide. For now as he was is unaware of who Abeer's true identity and has been telling Junaid to respect her and care for her, and to change his ways and become a family man. Kudos to Osama Tahir for his flawless acting in Baddua, we're looking forward to what he has to bring to the story next.