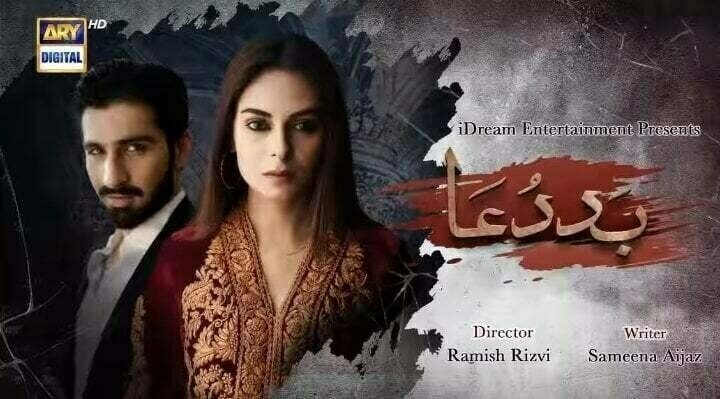 ARY Digital's Baddua starring Amar Khan, Muneeb Butt, Osama Tahir and Maryam Noor in lead roles has a gripping...

ARY Digital's Baddua starring Amar Khan, Muneeb Butt, Osama Tahir and Maryam Noor in lead roles has a gripping narrative that has kept the audiences hooked. Interesting plot twists and turns have kept the drama going and we're loving the character developments so far.
The Plot
The recent episodes leading towards the latest have depicted a rollercoaster of emotions. From discovering Junaid has a secret girlfriend that he is crazy about to Abeer threatening her and putting an end to it, Baddua has seen some major developments in the plot.
Junaid and Abeer's rocky relationship can be seen by his family, and unlike the mother in law's from hell, this mother in law played by Saba Faisal is determined to improve her son's marriage with his spouse even though he married her by his own accord. She decides to involve his older brother and asks him to counsel Junaid in this regard. Junaid pretends that all is well between him and Abeer but his brother tells him everyone can see that she has been trying her very best to make amends with him while he has been treating her like trash.
Abeer on the other-hand is playing the dutiful wife's role perfectly, in order to make Junaid happy she even calls his girl-friend Annie and apologises to her saying she will not interfere between the two, however Annie tells her she does not care about Junaid at all. Junaid then realises he has been making a mistake and warms up to Abeer as days go by. His behaviour changes and he talks to her politely for once, surprising Abeer. It looks like he has turned over a new leaf and is changing his ways for the better.
Amar Khan as the Vivacious Abeer!
A flirty and vivacious person by nature, she strung along many boys promising them love and then betrayed them for the next best choice she found. However it seems like Abeer is changing and has settled for Junaid after stealing him from her best friend Neelum. Abeer has been receiving calls and is being followed by an ex-boyfriend but she is determined to keep this hidden from Junaid as things between the two have just begun improving. However, it seems like the brave, courageous and fighter-like Abeer has been domesticated and to see her begging Junaid's girlfriend to talk to her husband was definitely a low point in her life.
Neelum and Affan Get Married!
Affan (Osama Tahir) and Neelum are finally married and this is definitely going to be a game changer for the drama as the two couples are bound to meet soon. A sneak peek into the upcoming episode shows the four of them coming face to face, will Neelum tell Affan all about Abeer and Junaid? We'll have to keep watching to find out!