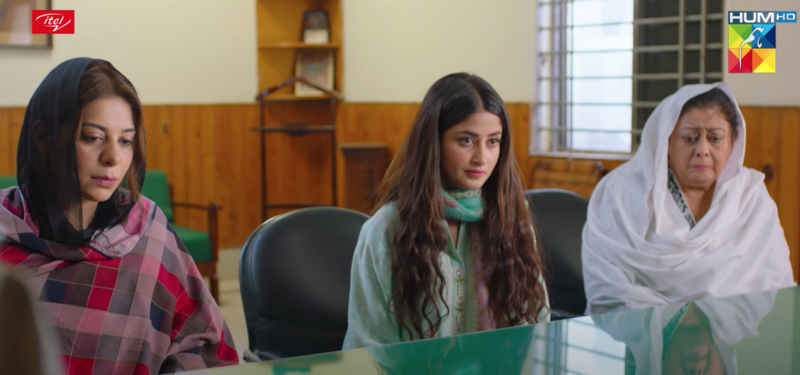 Ishq e Laa's latest episode is the turning point for the on-going drama series

Ishq e Laa's latest episode is the turning point for the on-going drama series, featuring Sajal Aly, Yumna Zaidi and debutant Azaan Sami Khan in leading roles, the unconventional narrative has had our attention with a refreshing storyline. The latest plot twist has stirred things up and it looks like the light-hearted show has now taken a dark turn from here onwards.
Let's take a look at all that happened in Ishq E Laa last night:
Sultan's Tragic Death Brings a Shift in the Story
Azka becoming a position holder had everyone in high spirits and just when the family had finally turned into one big happy family, things suddenly took a darker turn after Sultan was hit by a drunk driver. His tragic death was a heart wrenching affair and Kanwal had nobody to turn to except Shanaya who was at her own surprise birthday party thrown by Azlan. Even though Azlan asked her not to leave, she insisted that she must go as there are people who need her at the moment. Upon reaching the hospital she finds out Sultan could not survive and has lost his life. Shanaya then finds out about the videos taken on the site of the accident and discovers that the driver who hit Sultan is son of the same pompous elite businessman that was late for an interview with her just recently. Due to the involvement of the influential man the police repeatedly refused to register the FIR. Shanaya spent the entire night going to and from police stations asking for justice which was denied. She then convinced Kanwal to accompany her in order to lodge an FIR against the culprit. Although Kanwal's aunt Nusrat warned her to stay away from court proceedings, Kanwal was adamant to get justice for her slain husband.
Shanaya continued to put pressure on the authorities by airing the video clips from the accident on her news show and also put up the identity of the driver who was behind the wheel. On the other hand, the culprit has been whisked away to Dubai by his father while he gets matters in 'control'.
Trouble in Paradise for Shanaya and Azlan?
The newlyweds have just returned from their honeymoon recently and are getting back to their routines, with both of them working it has been a struggle for them to spend time together due to the clash in their work hours. Shanaya is a reporter and anchor for a popular news channel and gives the utmost importance to her work while Azlaan is used to having things his way at all times. He is now having difficulties accepting Shanaya's nature of work and continues to create issues. Last night's episode shone light on the differences between the two, upon Sultan's death, Shanaya was the only one who decided to help Azka's family while Azlaan on the other hand was annoyed at her for interfering in the matter. He believed she was ruining the well-built image of his family by going to the police station for a mere employee who was simply 'destined' to die this way. The problems in their marriage seem to be increasing with each passing day and as a millennial couple, their struggles are highly relatable with those who are young in love but are equally focussed on their careers.
Sajal Aly Steals the Spotlight this week!
Sajal Aly plays the role of an anchor and reporter, 'Shanaya'. She is a young, independent, career-oriented and above all brave woman who believes in rectifying the justice system and is working for the betterment of the society. Her work takes her to the not so glamourous side of our country and she uses her media power to shine light on the on-going issues in her surroundings. Sajal Aly may have been overshadowed by Yumna Zaidi who brilliantly portrays Azka but this episode saw tv darling, Sajal grab eyeballs with such a phenomenal performance proving her command on acting skills was second to none. Barging into the police station, forcing them to register the FIR for Sultan's hit and run case was a treat to watch. The previous episodes portrayed her as a young woman in love with a man who was not willing to commit to her but we now see she holds no regard for anybody not even Azlan when it comes to her work and helping people who are less privileged.
The Ladies In Ishq e Laa Give Applaud Worthy Performances!
The show features two of the top most leading ladies, Sajal Aly and Yumna Zaidi who have aced their roles to perfection. This episode saw all the ladies from Ishq e Laa in a different light, from Sultan's mother played by Simi Raheal to his wife Kanwal played by Uzma Hassan to his daughter. Each role was essayed perfectly by the actresses, a distraught and shocked Kanwal was phenomenally portrayed by Uzma Hassan, kudos to her for proving her mettle once again. From her body language in each scene to her expressions, it was all an absolute treat to watch. We're loving the light in which the women of ishq e Laa have been shown, not as 'mazloom' but strong, confident and brave, be it Azka, Shanaya, Azka's mother or Kanwal, in their own ways they all portray women who are resilient and ready to fight for themselves and for those around them.
Will Shanaya's involvement in Sultan's case cause a rift between her and Azlan? Watch Ishq e Laa to find out!