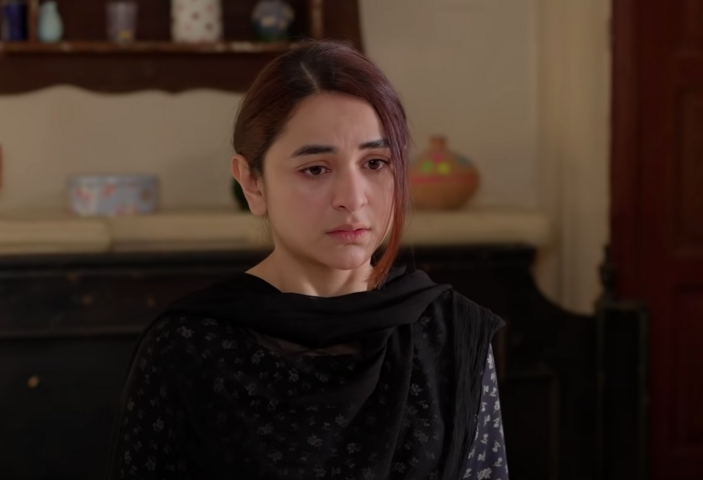 Ishq e Laa continues to win hearts with every episode, 14 episodes down, the drama has turned a tragic turn after...

Ishq e Laa continues to win hearts with every episode, 14 episodes down, the drama has turned a tragic turn after Shanaya's (Sajal Aly) death, Azaan Sami Khan (Azlaan) and Yumna Zaidi (Azka) continue to shine with applaud worthy performances. The drama is not another run off the mill play covering the same old saas-bahu sagas, but breaks through the clutter covering unconventional narratives that are otherwise swept under the rug. Ishq e Laa also marks the debut of singer-composer turned actor Azaan Sami Khan.
The show has us hooked with a gripping storyline which has been penned down by the lady with a golden pen, Qaisera Hayat and is directed By Amin Iqbal. The drama is produced under the MD Productions banner by the boss-lady Momina Duraid.
The Plot
Drama serial Ishq e Laa has turned a tragic turn since Sajal Aly's 'Shanaya' was killed mercilessly for speaking up for Sultan's murder case and fighting for justice to prevail. The romantic saga has suddenly turned into a heart-breaking watch episode after episode, Azlaan's hallucinations and his quest to seek justice for Shanaya is the new turn that the plot has now taken.
Azlaan's denial is heart-breaking to watch
Azlaan's hallucinations continue to take over his life and he even speaks to Shanaya in front of his mother. His parents decide to intervene but he refuses to let Shanaya go, declining his parent's requests to see a psychiatrist and seek help for his mental health. Azaan Sami Khan's performance has improved with every episode proving he is here to stay in the drama industry. Azlan crying out for Shanaya is sure to make you teary eyed.
Is Azka going to regret her decision of marrying Abid?
The same Azka who prayed for a miracle from the Almighty to save her from being married off to Abid has now agreed to marry the loafer. Upon hearing her decision, Kanwal (Uzma Hassan) and her mother (Simi Raheal) are furious and have told her she cannot think about sacrificing herself in order to support them during this difficult time.
On the other hand, Azlaan has found Azka's medical university documents and is taken back to the time when Shanaya had shared how she would be helping Azka become a doctor by supporting her education financially. Is Azka's dream of becoming a doctor going to be fulfilled or will she chose to get married to Abid and bid farewell to her aspirations? We'll have to watch the next episode to find out how the story progresses further.
A sneak peek into the next episode shows yet another shocking turn of events after Azlaan is seen sitting at his father's grave. An already broken Azlaan will now have to face yet another major loss, will this catapult him into the real world bringing him to yet another