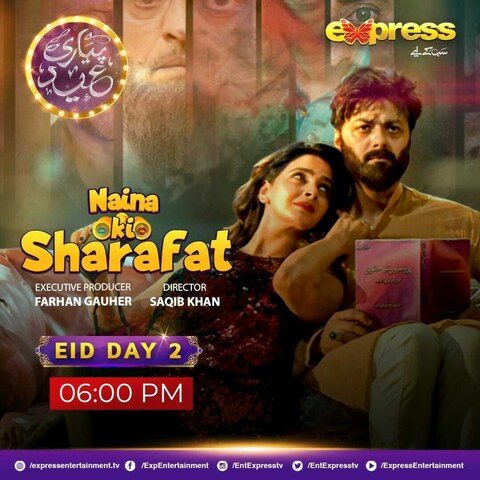 An Urdu flix original web series "Naina ki Sharafat" starring Saba Qamar, Ahmed Hasan along with Salim Meraj has...

An Urdu flix original web series "Naina ki Sharafat" starring Saba Qamar, Ahmed Hasan along with Salim Meraj has heated up the social media since months. Ever since the teaser appeared on the social media, netizens have opened a bundle of reactions and comments being anxious to watch the whole show. It's a 2 hours show directed by Saqib Khan, penned down by Saqib Khan, Mansoor Saeed and Uroosa Siddiqui.
The wait is finally over for the fans as Express Entertainment is bringing the sweet dish for its viewers this Eid with Naina Ki Sharafat on Eid day 2 at 6 pm. Express Entertainment knows what its viewers want and keeps doing it with success.
The plot starts with Naina (Saba Qamar), an abrupt and outspoken woman dejected by her family knocking on the door of Sharafat (Ahmed Hasan), a grumpy and tired of life man, who is seen as committing suicide. Embarking on a journey of honesty and love, everything falls apart when a secret is revealed between the two. They start with a fractioned relationship but are seen madly falling for each other. The orthodox neighbors and the maulana sahab bring havoc in their colorful life and they are seen kicked out from their house and running wildly on roads to protect themselves from the assault. No more spoilers, you need to watch the whole show. Stay tuned to Express Entertainment on Eid day 2 for more.
Saba Qamar after a long hiatus has resumed back with Naina Ki Sharafat. The queen of hearts and the empress of dramas and movies will be seen in a bold and outspoken avatar as it's a mixture of thrill and comedy. Saba Qamar's character Naina is exciting and mischievous while Hassan's character is serious and deserted.
Ahmed Hasan's get up is very much against his usual look of a silly jolly fellow in comedy dramas having a beard and messy hair, Saba Qamar looks ravishing in Red and Salim Meraj appearing in different avatars. Saba's bold dialogues and sizzling actions are raising the temperature in the web series. Celebrating her fame with "Ghabrana Nai Hai" these days, Saba Qamar is on cloud nine to receive another welcome dessert on her plate with Naina Ki Sharafat. We wish the team thumbs up for their success.