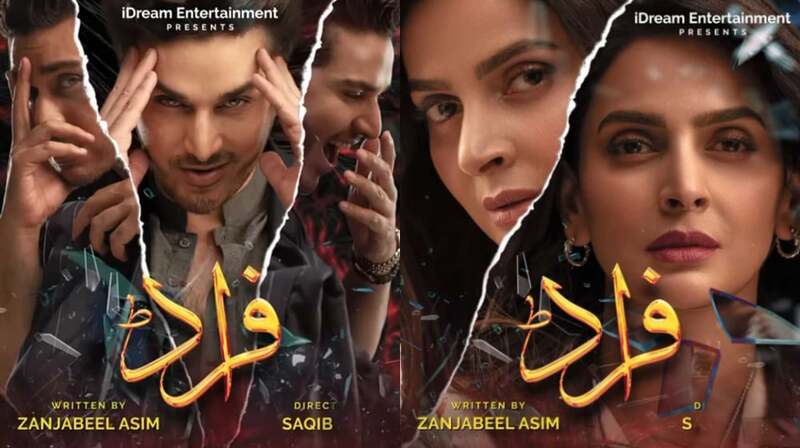 IDream Entertainment's Fraud's first episode has us hooked to its riveting storyline.

For weeks, we were all teased up with this year's biggest saga of love, romance, treachery and miseries representing the upcoming drama serial "Fraud" from the pen of Zanjabeel Asim, under the helm of Saqib Khan, out of the prowess of idream Production and from the magic of ARY Digital's drama artisanry.
With every impending glimpse of teaser, Saba Qamar was seen in bridal ensemble rejoicing and flaring in front of a mirror, spending love moments with Ahsan Khan and then a dolled up outcast waiting for someone at the railway station with a pierced heart seemingly victim to a treachery, Mikaal Zulfiqar lost in tragedies of life with his wife parting ways along with their child and Ahsan Khan exhibiting a carefree flamboyant young man flirting with Saba Qamar and setting his evil designs, Mehmood Aslam as a hapless and even helpless father and inspiring Rabya Kulsoom as the monument of hope in all rough times.
"Wada tera jhoota, tu ne mujh ko he loota, teray pyar men kahin ki na rahi" in the mesmerizing vocals of Ali Zafar tales about a hopeful girl losing her hopes to a shrewd scam and gradually converging to a hopeless man who seem to find hopes for a better life with her.
The grey eyed charmer Ahsan Khan and the tres beau Saba Qamar's talk of the town periodical "Fraud" with its prologue starts off from Saba Qamar, a pious soul longing for her partner in life dreaming in a charming bride ensemble getting ready for the big event in a no man's place and out of the blue birds nesting in cozy trees start fluttering around like gloomy clouds before a deadly storm, inkling of a disaster encircling her. Her father is her pride and courage her cheerful and bubbly sister as Rabya Kulsoom and her propitious mother expectant of happy days in her life are her biggest camaraderie.
Saba Qamar aspires to be a successful designer and intends to marry her cousin, they love each other since the day they started understanding the meaning of love but bound by the traditions of society and a loving family, she has resorted to her father to decide her fate.
Mehmood Aslam as Nasir, a beloved and caring father, husband, brother and neighbor, desires his daughters Saba Qamar as Maya and Rabya Kulsoom as Maira to be married in a wealthy family and lead a peaceful life like a princess. Saba Qamar and her down to earth cousin Nile (son of her widow phuppo played by Nazli Nasar) have hots for each other and have decided to marry. Saba's mother, sister, cousin and phuppo were always waiting for this good news but respecting the head of the family, the proposal goes vain. Saba's phuppo and mother had a hint of the proposal being turned down by her father but were subjugated to the wishes of their children.
Mehmood Aslam considers his widow sister's house as his own and bears all their running expenses as Nile is jobless at the moment. Saba keeps getting proposals from decent families but her father keeps turning them down on the back of his wishful thinking for a wealthy family and also rejects Nile's proposal eventually, but still loves him like his son. Nile and his mother are tattered on the rejection and also Saba, her sister and mother believing that fate has something better for them.
A brief introduction to the apparent antagonist Ahsan Khan's character shows making a proposal for a marriage on the internet, seemingly a wicked perpetration of his ignoble intentions.
Ahsan Khan does not need any dialogue for his characters, the moment he showed up on the screen, we knew he is the villain of the story, so as Saba Qamar's character was a clean and gentle aspiring young woman full of pleasant dreams. We are still missing Mikaal Zulfiqar's character as he is yet to emerge with his charisma.
It was a sheer entertainment of one hour where our eyes never went away from the screen calling for the second episode to air soon. The gig is definitely this season's best show.