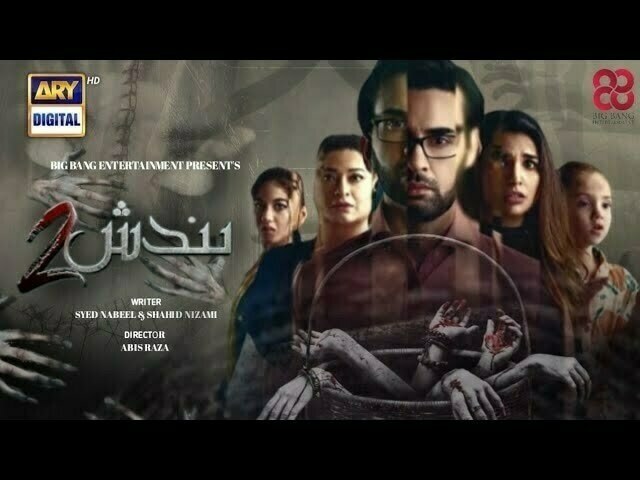 Wania sees herself dead and Sameer loses everything in a factory fire making the family wonder whether they made a...

Wania sees herself dead and Sameer loses everything in a factory fire making the family wonder whether they made a mistake moving into this house.
Bandish 2 is an ARY Digital drama that airs every Friday at 8:00 pm. It is a prequel to the first one and is just as frightening and thrilling as the first one. The drama's story focuses on how a family's life is affected because of an envious family member who practices black magic.
Farhana searches through old photographs for a photo of Humaira's family to present to Baba Saein. However, Armaan tells her that he has Rabail added on his Facebook and that he can download one from there.
Later, Wania awakens in the middle of the night to the sound of loud wailing. When she rushes outside to find out, she sees an elderly woman in black sobbing next to a dead body. She is surprised to discover that the dead body is hers when she takes a closer look. She just stands there, speechless and shocked. She stands there in astonishment when Sameer enters the room and informs her that his factory has caught fire. The whole factory is on fire when Sameer gets there. His entire stock for a new deal worth 3 crores is torched, and now everyone is worried about what would happen. Wania told Manahil that she had seen her own dead body and was certain that the house was to blame for all of their ensuing problems. Later on, she told Humaira what she had seen. However, Humaira didn't believe her and tried to convince her that she was just stressed out and that was why these fears and nightmares were starting to take over her mind. In order to dispel these doubts, she must pray more. Humaira urged her son Sameer to listen to Wania's worries and be considerate towards her.
When Armaan tells Farhana about the fire at Sameer's factory, they both appear happy. On her way home from college, Manahil meets Ahmer, who reassures her that if his father doesn't approve of their marriage, he and his mother will leave. He is starting a business and will soon buy a place of his own where he will settle his mother. If the house is theirs, they will be in charge of all decisions. Although Manahil disapproves of it, Ahmer assures her that he will find a solution.
Rabail's boss noticed she seemed distressed at work, he asks if there is anything bothering her. She informed him about the loss her brother has experienced due to his factory. When he discovered that her brother manufactured surgical equipment, he offered to invest in Sameer's company since he had been considering doing so. It made Rabail happy and relieved. Her boss, however, urged her to keep this information from others at work, especially his brother.
At Farhana's house, there appears a dead bird out of no where on her bed, and when she goes back after tossing it outside, she discovers yet another dead bird there.
The dead body scene in particular made the episode mind-blowing. Out of all the horror Pakistani dramas, we believe this was one of the most horrifying scenes. The portrayals of their characters by the actors are flawless. Particularly Amna Ilyas, whose expressions and dialogue delivery are so natural that you can sense her anxiety and worry in both her tone of voice and her eyes. Sania Saeed portrays Humaira as a wise and loving mother and mother-in-law with such poise that we can feel her maternal affection and tenderness in every word. Rabail's plot seems a little too irrational and stereotyped. The boss goes above and beyond for one employee, and the employee doesn't refuse to accept his support (whatever happened to work ethics and professionalism? ).
We are curious as to what terrifying events may befall Humaira and her family next, and whether Farhana will also suffer as a result of her evil deeds. Post your comments and let us know.