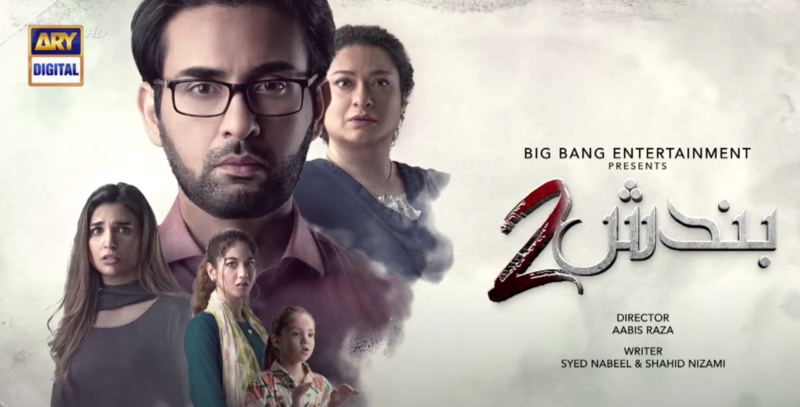 Wania consults a devout woman (Khala Ammi) in her family, who verifies that they are under a very negative influence...

Wania consults a devout woman (Khala Ammi) in her family, who verifies that they are under a very negative influence and will visit their home to help them in getting rid of it.
Synopsis:
Every Friday at 8:00 pm, ARY Digital airs the drama Bandish 2. The drama is a continuation of Bandish 1, the first installment of the series, which received critical praise as one of the best works of horror and suspense fiction in among the Pakistani drama industry. The drama's second season, like its first, had an encouraging and amazing response. The plot centers on a family, including a widow Humaira (Sania Saeed), two unmarried daughters, and a son who has a daughter (Hoorain) and is married to Wania (Amna Ilyas). They left Sukkur in order for Sameer (Affan Waheed) to build his business and for the older sister, Rabail (Wajeha Khan), to wed her then-fiancé, who lived in Karachi. Strange events began occurring as soon as they moved into their old family home. The family only has one relative and a long history in the city. Farhana (Zainab Qayyum), their chachi, has always desired to live a rich lifestyle as they did and to possess the ancestral home despite the fact that their father gave his share to his brother. Due to her greed and envy of Humaira's family, Farhana opts to use black magic to seize control of the home and harm the members of Humaira's family. But despite the fact that she just wants to see the family suffer, she gives the image of being kind, caring, and supportive of them.
When Farhana visits her Baba Saeein, he tells her that she is becoming stronger and could just be able to cast magic like he can. When she hears this, she is ecstatic and decides to become Baba Saein's disciple.
Rabail hasn't talked about her ex-fiancé and mother-in-law showing up to make amends. Humaira contacts Farhana to talk to her and find out what the issue is because she is pretty concerned about the whole thing. But when Farhana arrived to meet Rabail, she informed her that she was aware of her relationship with Hassam (imran Aslam) and was glad for her. She reassured her that she will speak with Humaira. Farhana explains to Humaira the reason for Rabail being upset with Maaz and her mother's apology and their desire to reunite the two.
Even though Humaira is a little taken aback by this revelation, Farhana's persuasion got her to consider this proposal.
Hassam had persuaded his brother and bhabi to call Humaira and ask Rabail's family for her hand in marriage. Humaira invited them over to their house because she was somewhat pleased with their approach of not delaying the matter.
Armaan's mother has also persuaded his father that Arman (Shuja Asad) wants to marry Manahil (Areej Mohiyuddin). But he requested some time to consider it. Since Arman's father has never been friendly with them due to some past problems with Farhana's husband, Manahil and Humaira were equally shocked to learn of this.
Now that Wania is concerned about the events taking place at her home, especially with her daughter Hoorain, she visits her older sister, who takes her to a highly devout relative they call, Khala Ammi.
They are being affected by exceedingly dark magic, which Khala Ammi reveals will harm them beyond what they could have imagined. Through her spiritual powers, all that she sees is trouble and destruction. She requests a visit to Wania's home sometime between Zuhr and Asar so she can perform some Quranic readings and purify the home of any negative energy. As soon as Khala Ammi enters their house, we notice a worried Baba Saein reciting his spells. She arrived while Sameer and Humaira were both out running errands. Hoorain is acting a little strangely when Khala Ammi requests to meet her, so she goes to hide on the roof. She appears to be unhappy with Khala Ammi's presence, or perhaps it's the demon that has her in captivity.
With the appearance of Khala Ammi, a devout person who conveyed the message that all forms of evil and dark magic may be defeated with the help of Allah's Kalam and the pure power of the Holy Book, this episode offered us a little bit of hope. Amna Ilyas once again dominated the episode as Wania, who is distressed and eager to find a solution for her daughter. We fail to comprehend Sameer's refusal to acknowledge that something terrible is actually happening, let alone We are baffled by Sameer's refusal to acknowledge or even consider that something miserable is actually happening. We hope that Khala Ammi will force Farhana's Baba Saein to accept defeat. However, given that the drama's genre is horror and suspense, we feel a little let down by the level of fright displayed since the past few episodes.
What do you think Hoorain will do, to stop Khala Ammi? Will Khala Ammi be able to improve matters or will she be unable to do anything because of Sameer? Post a comment and let us know.