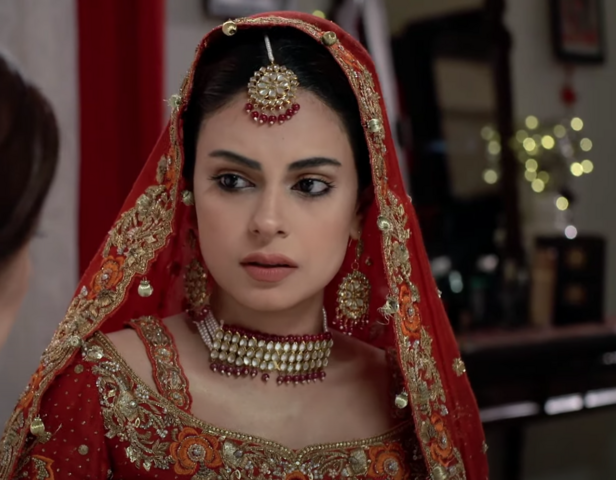 ARY's drama Baddua started off with a bang, a bold girl who is fearless and brave enough to fight for what she...

ARY's drama Baddua started off with a bang, a bold girl who is fearless and brave enough to fight for what she wants, even if she goes about it the wrong way. However over the weeks the drama seems to have lost its gripping narrative. The upcoming twist in the story is sure to shake things up we're hoping!
Amar Khan plays the 'bad girl' Abeer who cares about none but herself and has charmed many men with fake promises of love. Many have called out the play for having a weak storyline and the only thing we believe keeping Baddua afloat is the performances of the cast especially Amar Khan, Maryam Noor, Muneeb Butt and new entrant Osama Tahir.
As the plot thickens in Baddua, Abeer (Amar Khan) and Junaid's (Muneeb Butt) so called love story is entering its next stage, the two are getting married in an intimate wedding ceremony after Abeer threatened to kill herself if she was not allowed to marry Junaid, while Junaid on the other hand told his family he would leave home if they did not accept Abeer as his future wife. Thus, the two got their way, but Junaid has his own devious plans at play and is apparently getting married to Abeer to take vengeance for the embarrassment she has caused him with Neelum (Maryam Noor)
Abeer is in for a shock after she will soon find out Junaid's true intentions!
While some may not think the drama is giving off toxic vibes, it surely is showing the viewers the bitter picture of the society where people like Abeer and Junaid do exist and are just as selfish in real life as shown in Baddua. The two definitely belong together and Abeer has finally met her match with Junaid, while she may think he is in love with her, Junaid on the other hand has devious plans of his own and is marrying Abeer out of revenge. He is prepared to punish her by getting married to her. Although we are unable to understand why he is making it all out to be her fault. Wasn't he the one who liked the attention she gave him instead of shutting her out in the first place? He cheated on his fiancée Neelam on his own accord but he now blames Abeer for trapping him in her web of lies and love. Wishful thinking by Junaid it seems who believes he is not at fault in this entire scenario!
Amar Khan is Slaying the Vamp role in Baddua
Amar Khan's negative role in Baddua has been appreciated by viewers who have seen her 'satti savitri' side in her blockbuster show, Qayamat. Khan has successfully essayed the role of Abeer flawlessly, one cannot help but get 'irked' by her selfish behaviour at times. Abeer is a girl who is a go-getter and is ready to cross limits where she needs to in order to achieve her dreams. She fell in love with her friend's fiancé Junaid (Muneeb Butt) and even though he was taken, this did not stop her from befriending him and then coercing him into marrying her after things became difficult for her at home. Her outbursts and the ability to be able to speak her mind even in circumstances where her father was as angry as can be and could have harmed her is impressive to say the least. She is determined and always gets what she wants. Amar Khan has proved her mettle once again with this versatile and refreshing role. We are yet to see how her character is brought to penance after all the heartbreak she has caused along the way.
Osama Tahir's 'Affan's' role in Baddua begins to come Through
The recent entry of Osama Tahir in the story line has left us curious as to how his friendship with Junaid is bound to play out once he finds out Abeer is the same girl due to whom his cousin Mohsin (Mohsin Abbas Haider) committed suicide and his sister lost the man she loved so dearly. Tahir's character Affan is Junaid's childhood friend and we are yet to see how the story unfolds now that Affan will find out the truth sooner or later. Will he tell Junaid about Abeer's past and destroy her life? We are anxiously awaiting for the story to progress further.