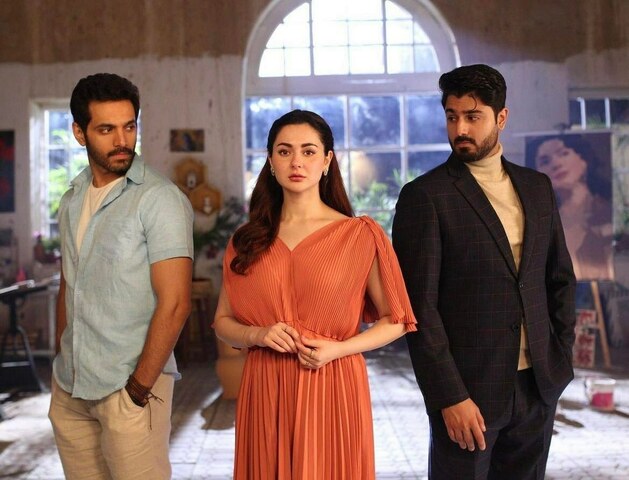 Every Monday, Mujhe Pyar Hua Tha is aired on ARY Digital. Drama buffs have been loving it for its impressive cast,...

Every Monday, Mujhe Pyar Hua Tha is aired on ARY Digital. Drama buffs have been loving it for its impressive cast, enticing soundtrack, and captivating plot. Badar Mehmood is the director and Sidra Sehar Imran is the playwright. Maheer (Hania Amir), Saad (Wahaj Ali), and Areeb (Zaviyar Noman) are the three main characters in the love triangle story of Mujhe Pyaar Hua Tha. Saad has always been deeply in love with his cousin Maheer, but things change when he doesn't reveal his feelings to her.
As a natural response to Areeb's proposal, Maheer leaves from his party. Areeb requested that he drop her off at her place. On their way back, Areeb tries to convince Maheer that he is a straightforward person who just expresses whatever ideas or emotions come to him. Maheer finds it difficult to accept the idea that someone may fall in love in a matter of days. Areeb's proposal to her in such a public place bothered her as it appeared as though she had been given an ultimatum without the other person's consent. Areeb asserts that he has no idea how people fall in love, but he has, and he doesn't care if she reject his proposal since his love for Maheer is sincere.
Maheer appears a little perplexed when he asks if she likes him or not and responds, "achay ho tum,magar…"
In response to Neelo's question regarding if Saad is convinced that Maheer considers him as her happiness, he says that she has no one else in her life because she confides everything in him. Neelo tries to persuade her parents to go with a proper proposal for her brother. This time, her persistent prodding paid off, and the adults of the family decided to have a conversation. But when they start talking, they realise Rafia isn't there. However, as they begin to talk, they notice that Rafia is not there. Nevertheless, Azhar continues to proceed with their discussion despite Rafia's absence.
Meanwhile, Maheer is obviously thinking about what transpired at Areeb's party.
"Tumhain kabhi mohabbat hui hai?" she replies when Saad asks where she is lost. Saad is definitely a little baffled by this question. In his heart and mind, Saad is nodding in agreement to all of her questions about being in love and thinking about one's beloved. She admits to Saad that she believes she is in love. While they were having this conversation, Neelo informs them both that their rishta has been formally confirmed. You and Saad are now formally engaged, they tell Maheer when she enters the room where everyone was gathered. Maheer simply leaves the room since she is so shocked that she cannot speak.
Maheer is utterly startled and confused by what just occurred. Rafia shows up when the rest of the family is busy congratulating one another. She is definitely concerned about Azhar's choice of proposal for her daughter. She rejected the entire "Bachpan ki mangni" scenario, saying it was an old arrangement and she would not consent to it. Azhar says that he has already made a commitment to his brother. Rafia responded by asking if Maheer had been asked what she wanted. Despite the fact that Azhar thinks Maheer would agree with her father's choice, When Maheer is questioned, her father advises her to say whatever she wants because she has never failed him, is his pride that and would never let him down. Despite the fact that Maheer does not provide a clear response, everyone assumed that she has accepted this proposal and her silence is because of her modesty.
On the other hand, Areeb feels confident Maheer would make a decision in his favour.
Maheer is questioned by Saad about why she is being so tense. She responds, "Aren't you anxious too, wondering how her family could make such an absurd choice just because we are cousins, close friends, and get along great." Why didn't you answer no when everyone asked?" Saad asks. "How could she refuse her father who so firmly believes in her," she said. She wants to end this since she believes Saad is also surprised. When Saad asks her who she wants to marry, she responds that Areeb proposed to her. She confessed to him that she and Areeb shared a love-at-first-sight experience. She explains to him that she cannot share all of this with her father because he believes in his daughter but she is also frightened of losing Areeb. She asks Saad to do something to help her, and let everyone know that he doesn't want this to happen. She is given the reassurance by Saad that her wishes would be fulfilled just the way she wants. On the other hand, Areeb is confident Maheer would make a decision in his favor.
Rafia is obviously upset that Azhar made such a crucial decision without consulting or including her because she is Maheer's mother and has every right to be included in this choice. Maheer tells Areeb that she needs some time to speak with her family. Areeb assures her that she has all the time she needs.
The episode clarified many of our questions about Maheer, particularly the one concerning who she really loves. We now know on whose side Maheer will be since it is apparent that Maheer has always thought of Saad as a close friend and a cousin. We are unsure if Saad would be able to make a sacrifice this significant, though. In this episode, everyone performed a solid 10/10.
Hania Amir was all a normal desi girl would be when being proposed to in public and informed that her rishta has been fixed. Wahaj Ali's emotion of being utterly startled and concerned about his beloved was amazing. When Saad screamed to release his frustration, we could actually feel his agony and pain. Although we admired the beautiful relationship Maheer has always shared with her father, we were a little miffed by Azhar's continued emotional pressure on Maheer despite his assurances that her wishes and preferences would be kept in mind. But it also makes sense because this is how most desi households settle rishtas. Saad's response to this situation will be intriguing to watch. In the comments section, feel free to share your predictions on Maheer's ultimate decision.