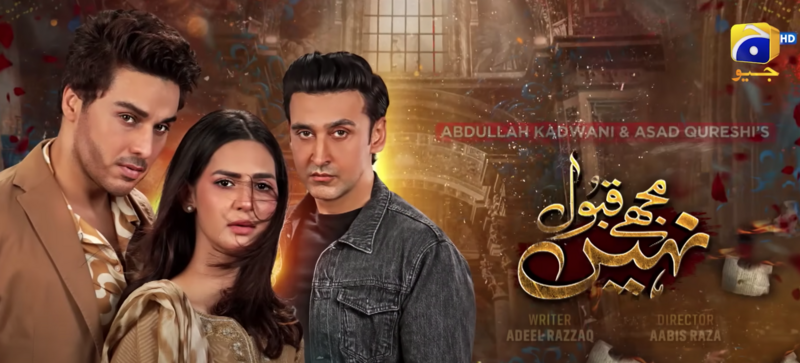 In this modern love saga, Ahsan Khan & Sami Khan are seen portraying characters on opposite sides of the spectrum.

After Tere Bin's success Geo Entertainment has announced its latest offering, 'Mujhe Qabool Nahi Hai', starring the superstar Ahsan Khan alongside the dapper Sami Khan. Joining the two heroes will be actress, Madiha Imam. The drama is a 7th Sky Entertainment Presentation, produced by Abdullah Kadwani and Asad Qureshi who are currently basking in blockbuster Tere Bin's successful run. The drama is penned down by Adeel Razzaq and is directed by Aabis Raza who has multiple projects under his belt including, Aulaad, Jalan, and Pyar Deewangi Hai.
Ahsan Khan will be playing the lead role 'Attir' in the highly anticipated drama, in a previous interview Khan mentioned that he had the chance to choose between two distinct characters, having played multiple negative roles in Qayamat and Fraud, Khan will now be seen as the protagonist and has chosen to embrace a positive persona. The versatile actor has been a force to reckon with and while we love his negative characters, we are anxiously waiting to see him as the hero in the upcoming series.
According to the teasers, Khan falls in love with an employee from his workplace, Madiha Imam and arrives at her home with a proposal but sadly, she has already been wedded to Sami Khan in a 'nikkah' that was held years back. This starts off a rivalry between the dynamic duo, Ahsan Khan and Sami Khan, but Madiha Imam is seen bearing the consequences keeping Sami Khan's character in mind.
Sami Khan is playing the antagonist and his character is married to Madiha Imam, acing the negative character, Sami Khan reminds us of the role he essayed in Saraab which certainly sent a chill down our spine. The same seems to be the case for this upcoming new show where his character is seen to be aggressive and borderline psychotic. With the teasers and promos released, the actor can be seen asking his lady love to slap herself and in another scene he seems to be dangling her off an overhead bridge. Touching the topics of domestic violence and social injustices, the drama promises to be an engaging watch with a gripping storyline.
Osama Tahir plays brother to Sami Khan and is married to Madiha Imam's sister played by the gorgeous Sidra Niazi. The actor recently revealed that the story revolves around a lot of greed and social injustice in a way but more so about how greedy humans can be and how far they'll go to achieve what they want.
The love triangle between the leading actors will be an interesting watch and we are anxiously waiting to see how the story unfolds. Witness a love story that reflects the true essence of sacrifice, where hearts are tested and boundaries are pushed. Who will Madiha Imam's character end up with is what we're dying to know!
Mujhay Qabool Nahi will air every Wed-Thur, starting from 12th July on Geo Entertainment.