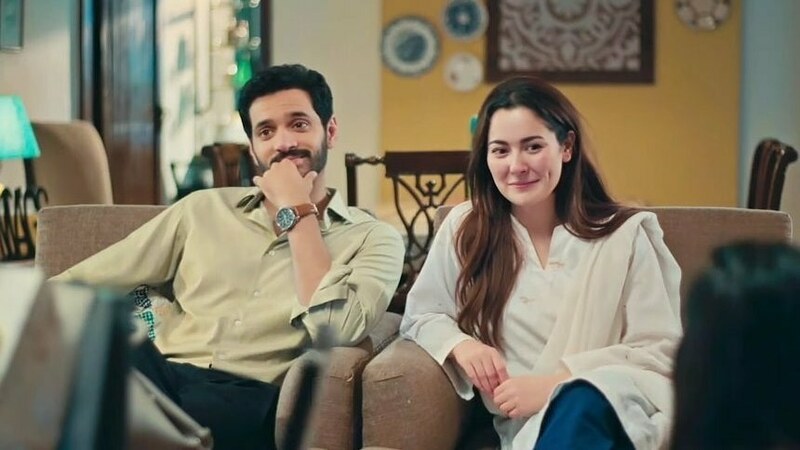 Karma hits back at Areeb. Meanwhile, Saad and Maheer are off to a happy and love-filled ...

Karma hits back at Areeb. Meanwhile, Saad and Maheer are off to a happy and love-filled beginning.
Maheer pretends to be on Areeb's side and promises to marry him after Saad is found not guilty when Areeb agrees to drop the fake rape claims against Saad. The situation is reversed, though, as Maheer declines to go with Areeb and get married to him. Faha is waiting for her husband-to-be, Areeb, dressed as a bride, while he tries to persuade Maheer to get married to him. Saad intervened to save Maheer as Areeb tried to drag her away and warned him to never again show up at his house. Maheer has finally acknowledged that Saad is her soul mate after reading his diary and realizing how unselfish his love for her was.
While witnessing all of this, Saad's mother and Neelo realized that Maheer wasn't always at fault and that Saad and Maheer loved each other.
When Areeb returns home after being humiliated by Saad and Maheer, Faha is so furious at him for making a fool of her and taking her love for granted that she screams and curses him. She is so angry that she even admitted to falsely accuse Saad of having raped her over Areeb's wishes. She keeps warning Areeb that she would make his life terrible for what he did. Areeb and Faha's mother are surprised to discover this.
Areeb's mother bemoans the fact that she brought up a son who destroyed the lives of three people without even a sense of remorse. Additionally, she holds herself accountable for destroying Maheer's life and sees herself as the source of all issues.
Areeb is named in a fake rape attempt complaint filed by Faha. While he attempts to persuade his mother that he did not commit the crime. He gets yelled at by her to quit telling lies. Finally, she informs him that he must assume she is dead to him. Areeb has come to understand that he must now make amends for all he did to ruin Saad and Maheer's life since it has all come back to haunt him.
Saad's mother apologizes to Maheer for being so unkind and disrespectful to her, but Maheer tells her there is no need to apologise because she considers her to be her mother. Rafia, Maheer's mother, too realized that Maheer and Saad were meant to be together and that the source of their pleasure was one another. As a result, she too apologized to Saad and wishes the two to stay happy together.
As for Saad and Maheer, they turn out to be the ideal pair that we had all hoped to see. As the two are seen speaking, Saad confesses his love to Maheer in person, and Maheer quite rightfully asks him, "Pehle nahi Keh Sakte Thay?"
The drama turned into a perfect example of all's well that ends well after the narrative took some really irrational turns and the tale stretched out needlessly. However, the happy ending made up for all the foolish things that kept happening. We are happy that the drama's concluding message did not at least extend pity to Areeb, its villain, and gave him what he deserved with no easy atonement. We admired how straightforward but effective the dialogues in the last episode were. Regarding the performers, Wahaj Ali and Hania Amir's strong acting helped save the entire drama.
How did you like the MPHT ending? Let us know in the comments section.