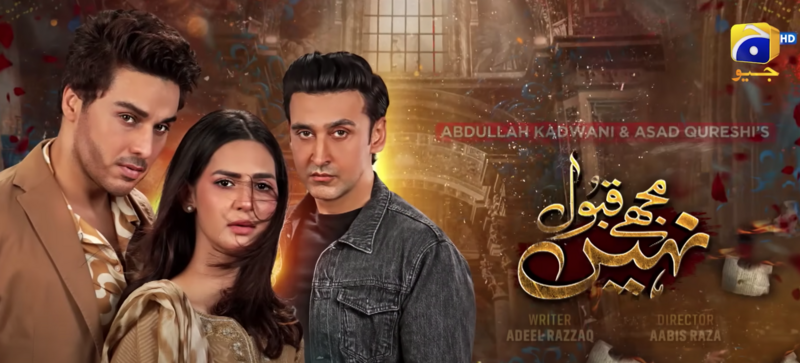 Mujhay Qabool Nahin starring Ahsan Khan, Sami Khan and Madiha Imam has wowed audiences with its compelling storyline.

Geo Tv's Mujhay Qabool Nahin has been making waves for its gripping content, from creating awareness on important topics to giving the perfect thrilling drama, the show has captivated audiences with its compelling storyline and powerful messages. From shedding light on crucial issues to delivering gripping drama, the show has garnered attention for all the right reasons.
The drama addresses an important topic and sends the right message across to the viewers, the plot follows the child marriage of the lead actress played by Madiha Imam and Sami Khan, Ahsan Khan plays Attir who is out to change the narrative on child marriages in the country. We see him try his level best in educating Maira (Madiha) on her legal rights and broaches the topic of 'Khula'.
Here are the top 3 Reasons to Watch Mujhay Qabool Nahin:
Advocating Against Child Marriages:
At the heart of 'Mujhay Qabool Nahin' lies an urgent message against the prevalent practice of child marriages common in Pakistan. The drama courageously delves into the dark corners of society where young girls are forced into wedlock at an age when they should be pursuing education and dreams.
Through the characters of Maira (Madiha Imam) and Salman (Sami Khan) the audience is presented with the harsh reality of child marriages and the lasting impact they have on the lives of innocent kids. The drama serves as a powerful advocate for breaking the cycle of this harmful tradition and promoting awareness about the importance of education and empowerment. We see Maira question her family's decisions and her refusal to continue her nikkah with Salman who she despises from the core of her heart. Attir (Ahsan Khan) continues to advocate against this sham of a marriage and has been helping Maira make an informed decision about her life ahead.
Amplifying Women's Rights
The show not only addresses the issue of child marriages but also highlights the importance of women's rights and agency. Ahsan Khan's character, Attir, takes on the role of an advocate for women's empowerment, educating Maira about her legal rights and encouraging her to seek a 'khula' (a woman's right to seek divorce) from her child marriage with Salman a known abuser and manipulator.
The drama gives voice to women who are trapped in oppressive situations and emphasizes the significance of having the autonomy to make life-altering decisions. This portrayal of women's rights adds depth to the storyline and resonates with audiences who believe in gender equality and empowerment. The episode where Attir helps Maira open a personal bank account instead of a joint account with her husband won our hearts, he pushed her towards financial independence which we truly believe will lead her to later take freedom from her 'husband' Salman.
Stellar Performances by the Cast
The drama's impact is further magnified by the stellar performances of its cast. Ahsan Khan's portrayal of Attir, a man determined to challenge societal norms, is both convincing and inspiring. Madiha Imam's portrayal of Maira, a young girl caught in the shackles of early marriage, strikes a chord with viewers through her emotional and authentic acting. Her determination to attain her freedom has the audiences rooting for her.
Sami Khan has aced the bad boy, psychotic role for Mujhay Qabool Nahin. Not only is he the perfect choice for this role, but his acting is so natural we can't help but hate him as soon as he appears on screen as the despicable Salman.
Every drama has an ensemble supporting cast and two major characters in the drama are Mohammad Ahmed as Shakeel and Osama Tahir as Arsalan. Donning a negative role after a long time, Mohammad Ahmed of Kuch Ankahi fame is known for the 'good' fatherly roles however he is the complete opposite here, greedy and power hungry - we're absolutely hooked to his performance as Shakeel.
Osama Tahir as Salman's big brother Arsalan has done a splendid job, he not only is calm and composed in nature but is also respectful towards his wife who is Maira's elder sister. The two brothers are as different as night and day and Arsalan has essayed the role brilliantly!
As the drama unfolds, viewers can anticipate a roller-coaster of emotions, thought-provoking dialogue, and performances that tug at the heartstrings.