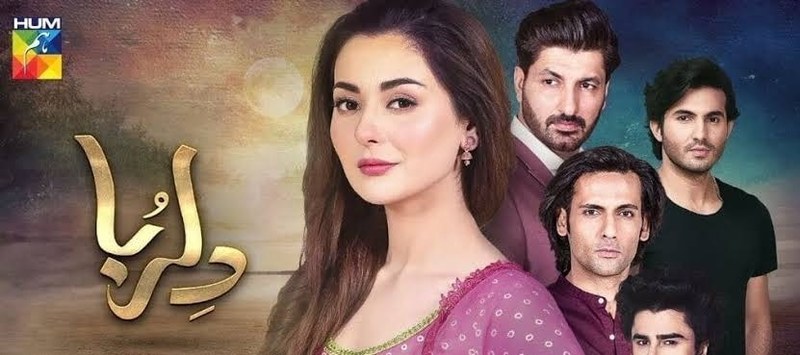 Love, intrigue, heartbreak, Dilruba has all the ingredients to keep you glued to your screens!

If you haven't been in a one-sided love affair, or haven't gone through a breakup, then Dilruba is definitely not your cup of TV. HUM TV's latest offering features Hania Aamir as Sanam, who is not just attractive but very outgoing, and in simple words – a human firecracker. The way her character has engaged as many as three handsome hunks is certainly magical, because each one feels that he is the only lover when in fact none of them is. The elderly audience has rejected the character as too loud when in fact it should be termed as the human version of 'how to make a man do anything' technique. If you don't find the drama interesting, it's time to say goodbye to your youth, and be ready to enter the place known as middle-age.
The Plot
Like most youngsters out there, Sanam (Hania Aamir) wants to become a Social Media sensation, but due to her family's unstable financial conditions, her life is always under a microscope. Her mother (Marina Khan) doesn't approve of her ways but due to the rest of the family, she gets away with her antics. When as many as three men (Mohib Mirza, Asad Siddiqui, and Shehroz Sabzwari) fall in love with her simultaneously, her life changes as she has to talk to all of them, and live a life where she can benefit from each of them at the same time. Will Sanam be able to get away with what she feels is frankness but is taken as love or will life change for the worse for the youngster, wait and see in the upcoming episodes of the drama.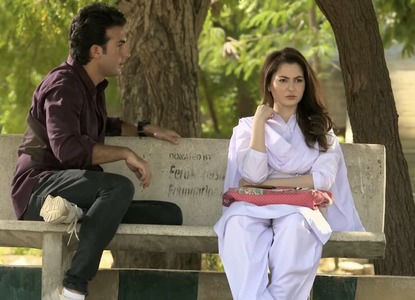 The Good
So far, Hania Aamir's Sanam has been dominating the drama because of her stunning performance as someone who just wants to live her life fully. She has all the ingredients to make boys go weak at their knees and she is using that perfectly. Be it getting a new phone, a new dress or a photograph at her friend's wedding, she manages to use her magic every time successfully. Marina Khan as the mother delivers first-rate performance and it wouldn't be surprising if her character explodes one day at her daughter for bringing shame to their family. Durre Fishan as the pyari beti and elder sister of Sanam plays the calm sibling and has so far impressed all.
Among the three handsome hunks who have shown interest in Sanam, Mohib Mirza is by far the most convincing, first because he is playing his age and second he is sort-of related to Sanam. Asad Siddiqui showed his true colors in the last episode and it would be interesting to see how his relationship with Sanam moves forward. Shehroz Sabzwari plays the typical madly-in-love guy who is slowly losing everything from his father's money to his mother's patience, just because he thinks Sanam loves him back as well. Sadly, she loves no one, but herself and shows that in her performance.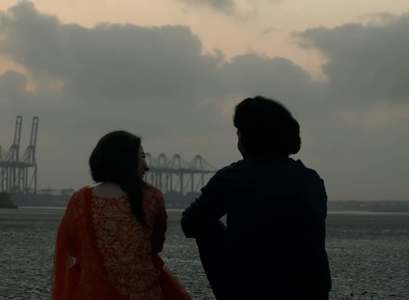 The Bad
The actresses who play Sanam's colleagues are quite irritating and the sooner they are out of the scene the better. The writer Qaisra Hayat might have written them as today's college students but some of them seem older than Hania's character. Then there is the army of senior actors whose characters aren't defined – Khaled Anam has so far shown glimpses of the typical father who doesn't trust his son, Huma Nawab is the loving mother who can't say no to her son, Laila Wasti as the caring mother who loves both her stepson and real one, whereas Sajeeruddin Khalifa is the paralyzed head of the family, and is wasted in a role that should have had more to do. One hopes that the story does justice to their characters because when you have so many veterans in a play, not giving them their due effects the drama's credibility.
I am sure director Ali Hassan has used them as per their experience, not as fillers. As for Nabeel Zuberi, the young model-turned-actor has potential but so far he seems to have shown no diversity in his performance; maybe in the coming episodes his character becomes part of the bigger game. Wait and see!
The Verdict: Interesting!
After 4 episodes, Dilruba has been fast-paced and entertaining, where the focus has been on establishing characters than taking the story forward. It would be great if the next episode deals with Asad Siddiqui's character who isn't what he seems; the audience is anxiously waiting for Syed Jibran's entry because he can raise the bar with his performance in front of any actor and Ranjha Ranjha Kardi was a proof of that. One also hopes that Hania Aamir's Sanam leaves college soon, and the story moves around the many ways she will make the boys do stupid things. What story she concocts to get them to do her bidding and how do they respond, that will hold the key in the coming weeks.