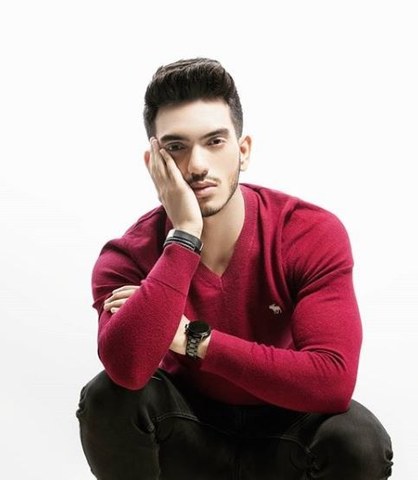 Read our exclusive interview with the charismatic Haadi Uppal!

It's time to hold your horses, ladies … there is a 'new kid on the block'! He is not only good looking but has the vocal cords to become the next big thing. Yes, we are talking about Haadi Ali Uppal who released his single Te Quiero and made a lot of new fans in no time.
Featuring Aima Baig as the female vocalist and also as the lady love in the music video, Te Quiero has been making rounds both at home and abroad. Composed by Shiraz Uppal and penned by his trusted lieutenant Shakeel Sohail, the music video has been choreographed by the one and only Nigah Hussain, who is usually behind well-produced music videos, film songs, and dance (or item) numbers.
Directed by Saad Hashmi and shot featuring both cuties Haadi and Aima, the song leaves you in a happy frame of mine and that's what it was supposed to do. It not only brings back memories of the Golden Era of Pakistani Music but also heralds a new one, where youngsters will carry the torch forward. And boy, the future sure looks bright with them!
Haadi Ali Uppal not only sounds like his legendary father Shiraz Uppal but also considers him great influence. Don't be impressed just by his majestic physique, he has transformed from a Wannabe Singer Son to Singer Who Makes Daddy Proud with his achievements in no time. Three years back he released his first song Deewangi which introduced him to the world as Shiraz Uppal's successor … while his father was still reigning the field! The song was appreciated by all where a young Haadi displayed his command over vocal cords and understanding of music at such a young age.
Last year he also made his film debut as a playback singer with Chhalawa where his song Madhaniyan with Neha Chaudhry was appreciated along with other songs in the album. And don't be surprised if you believed that Shiraz Uppal was lending his voice to the number; the music composer was directing his son from behind the mirror.
Talking exclusively to HIP, Haadi Ali Uppal disclosed that the song was visualized to break the monotony of quarantine and it wouldn't have been possible without Aima Baig who encouraged him throughout this project.
'Music seemed like my solace during quarantine as I felt that I needed to do something. The mood all over the country was pretty gloomy and dull so I then came up with Te Quiero. I worked on this project with my dad and asked him if we could create something that was mellow yet romantic to brighten up the mood a little. While we were working on it, Aima Baig was there to work on another project for a movie song and she then heard my vocals. She really encouraged me through this project and it would not have been the same without her. Creating something romantic with a bit of a western touch only had Aima's calling, so we worked on it and shaped what you see today.'
And if you are over the handsome hunk's dashing looks, think about the fact that music was never his first priority. Yes, Shiraz Uppal's son would not have taken up music had it not been for the lack of Sports activities in the country. The youngster wanted to become a professional footballer (soccer) and since Sports especially any kind of Football doesn't have an infrastructure in Pakistan, Haadi opted for the next best thing.
'My interest in this field developed a while ago. I wanted to become a professional football player, as it has always been my passion. I would say either fortunately or unfortunately being in Pakistan, this was not necessarily possible. The resources for this particular sports field are very less. This got my mind ticking and working on finding out where my desire further resides.'
Thank God Pakistan doesn't play Football, otherwise, music's loss would have been Sport's gain … and there wouldn't have been Te Quiero. The hip romantic number appeals to both the young music lovers as well as those who grew up listening to Shiraz Uppal. There are a few words here and there in Spanish, the music video has been shot in new-age style whereas the composition seems like an amalgamation of both the new and old style of songs. While talking about the song, Haadi Ali Uppal said that they used the Spanish words in the lyrics because they fit perfectly in every way. And he also spoke about the sizzling hot chemistry between Aima Baig and himself.
'We toiled with the chorus, and then Te Quiero which means I love you is what fit perfectly right in. It flowed so well and when my dad composed the melody along with it just felt seamless. The chemistry created with Aima was very natural and there is no one who could have done a better job.'
Haadi Ali Uppal also credits his father for being more of a friend than a parent, and why he likes working with him.
'Working with my dad has been very interesting. Even though it was friendly and very cordial overall, there were instances where he would be very particular about things as he is a perfectionist. Unless and until I actually deserve it my dad would never praise. We worked on each and every element in great detail and this really has been a huge learning experience. I would say it has been a fun and memorable project for me.'