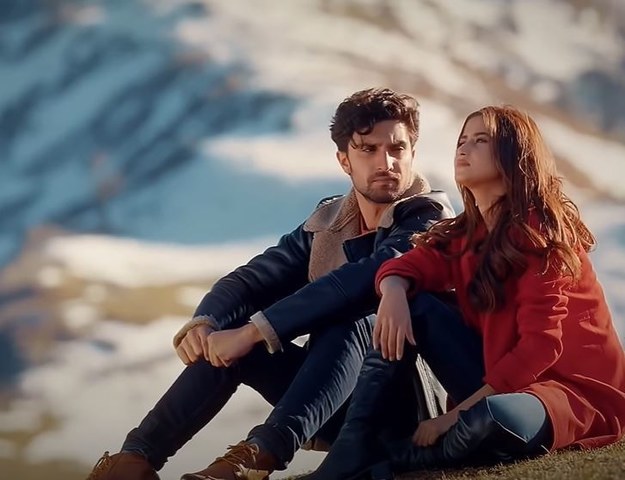 As we bid farewell to the scenic shots, powerful dialogues, and stir of emotions, we are left with an open ending to the exhilarating saga.

Ye Dil Mera was surely one of the most popular and the most-hyped dramas of the season. With Farhat Ishtiaq penning the story, Aehsun Talish taking the director's seat and Pakistan's wonder couple, Sajal Aly and Ahad Raza Mir starring in the tale, the project easily grabbed eyeballs.
The last episode was aired yesterday with the public eagerly waiting for it! Some wanted to know the conclusion to the story, the rest thought that the story has been stretched immensely. However, the grand finale left everybody with an open ending!
Spoiler Alert!
While both Mir Farooq Zamaan and his vile aide, Ali Baksh died a painful death, Aina and Amaan also parted ways. Our heroine stood up for herself to heal from the trauma caused by her mother's death, his father's betrayal, and her husband's pretense.
The last episode has surely caused a massive buzz for various reasons on social media and like always, made it to the Twitter trends- not only in Pakistan but in India as well.
Of course, fans wanted a romantic end to their favorite story.
The rest realized that both Aina and Amaan needed to heal from the darkness of their past.
And this scene broke everybody's hearts!
Not to forget, some of the dialogues were so powerful they will always remain memorable in your minds!
The beauty of Darya Bagh in the ending shots left us all mesmerized!
Meanwhile, critics pointed out that Sahira's chapter in the story was still pending and Aina never got to know about his father's second wife.
One thing is for sure, Ahad and Sajal's pair will surely be missed!
Who knows, when we will see them together again! All in all, Ye Dil Mera proved to be one of Farhat Ishtiaq's most stellar sagas. She took a risk and dabbled in a new genre, proving that Pakistani audience can welcome suspenseful stories and thrillers amidst a heartfelt romance.
Ahad's acting has been phenomenal throughout. The hero should be immensely proud of himself for delivering incredible performance and placing himself amongst the cream of Pakistani actors. Sajal has always given her best, be it any character and any story. Every time, we see a new shade of her performance and she portrayed scenes of her emotional breakdown with sheer perfection.
Viewers might remain divided over the ending. However, the fact remains, that Ye Dil Mera discussed issues including mental health and childhood trauma that are seldom included in our plots. More work needs to be done in this area and we hope that future stories might take note to raise voice on these societal matters!