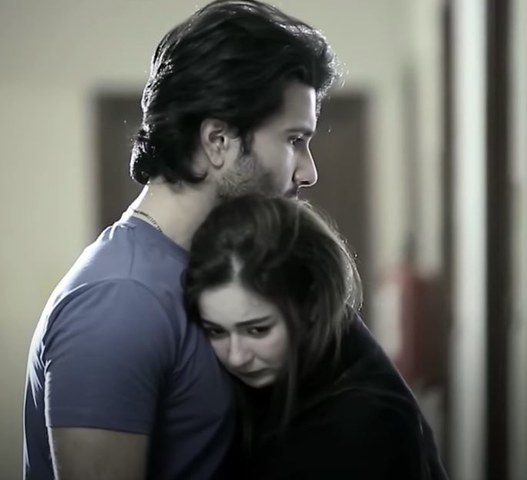 With Ishqiya trending on Twitter almost every Monday, the latest episode unveiled yet another slow-paced plot but the death of a major character left everybody shaken.
From the last couple of weeks, the story has started progressing with Hamna finally confessing to Azeem about her toxic past relationship with Hamza. Let's take a quick review of what Ishqiya's story has been up to this month!
Azeem Realizes the Truth about Hamza
With Hamna finally summoning up the courage to tell Azeem the reality and her father battling between life and death, Ishqiya has taken an interesting turn.
As predicted, Hamna's bold step of coming clean has caused a major dent in Hamna and Azeem's relationship. However, Azeem behaves like a total gentleman in this situation, making his father-in-law's health a priority above all.
A silent cold war has ensued between him and Hamza, now that he knows Hamza is toying with so many hearts. Every time, he sees Hamza being tender towards Rumi, he feels furious with the whole façade and we wonder if he is going to lose his temper anytime soon.
Meanwhile, an anxiety-ridden Rumi is taking all frustration out on her mother, not realizing that she too is in immense stress. Worried about her father, she warms up to Hamza who is there for her in this hard time.
But fate has something else planned for them. Doctors reveal that there is no cure for Siddiqui Sahab's liver ailment and they have tried their best to save him. The episode ends with him passing away and Hamna, Rumi, and their mother crying their heart out over the tragedy that has hit them!
Shabbir Jan's Powerful Performance is the Highlight of the Episode
Ishqiya would be so much more captivating if there was a fast-moving plot with low emphasis on insignificant flashbacks. Too much of unwanted throwbacks bore the audience and the only saving grace remains the candid scenes between Feroze Khan and Hania Aamir that we believe the viewers love to watch.
We must praise Gohar Rasheed's acting chops for he is doing a remarkable job at depicting Azeem's shock, disgust, and misery. He has stolen the spotlight in the past couple of episodes as his character will now be a major role in the story. It all depends on Azeem now and we wonder what the writer has planned for his fate ahead. Will he leave Hamna and expose Hamza? We hope we find out soon.
Take a bow, Shabbir Jan! He made us weep in the parting scene where he was struggling between life and death. Throughout the drama, the veteran's acting has been impeccable in the role of a caring father and a loving husband. His character will be missed in the show.
The promo of the next episode shows Azeem admonishing Hamna for going to the hospital without informing him. It seems like he is about to get impossible and will be giving a tough time to his wife!