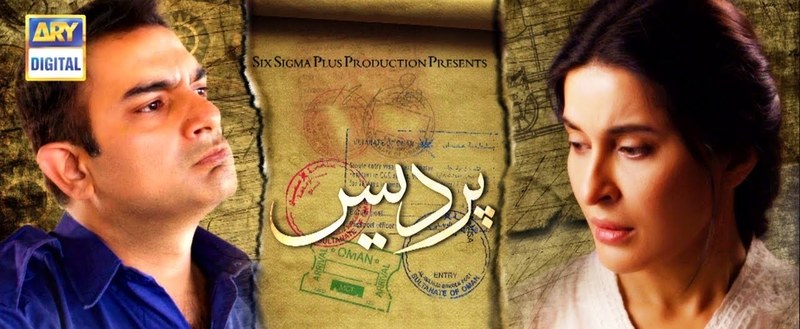 Pardes vows audiences with its emotional plot!

ARY Digital's Pardes has caught quite the attention due to its brilliant star cast which includes Sarmad Khoosat and Shahista Lodhi in leading roles while it has Bushra Ansari, Gohar Rasheed, Durr-e-Fishan Saleem and Sharmeen Ali in prominent roles. Directed by Marina Khan, penned by Sarwat Nazir and produced under Six Sigma production, 'Pardes' has a gripping narrative, and it is one play that should be added to your must-watch list.
The Plot
Pardes follows the story of Ahsan (Sarmad Khoosat) and his family that includes his wife Zubaida (Shahista Lodhi), mother (bushra Ansari), daughter, younger brother Asim (Gohar Rasheed). They hail from a lower income background and are barely making ends meet with just Ahsan as the sole breadwinner in the family. Set in the late 90's and early 2000's, the drama will probably undergo a time jump along the way. Sarmad plays the most humble, gentle and caring husband to his wife and is ready to fight for her while she chooses to sacrifice herself in front of her mother and sister in law at all times. The greed for becoming richer makes his mother repeatedly ask him to work abroad so the rest of the family can reap the benefits. However, Ahsan cannot live without his wife and daughter and refuses to work in a foreign land just for the sake of money. Asim who is Ahsan's younger brother is in love with his cousin Nausheen and is caught romancing her at home by her father who then demands that their marriage take place within two weeks. Ahsan now has an added burden of his unemployed brother's wedding and his wife too since Asim can't be bothered to earn himself. The family is full of leeches who cannot see anything beyond the greed to have more of everything. From the mother whose main concern is to have a better fridge than her neighbours or Ahsan's sister Nabila who keeps demanding for expensive gifts for her husband. Zubaida and Ahsan keep sacrificing their hopes and dreams for the family while getting nothing in return.
Pardes - A Story that Many Will Relate To
It is great to see the Pakistani drama industry having something apart from a rusty old love-triangle as its storyline. Pardes has left viewers emotional with a story that every expat away from his family can relate to. While some people choose to travel to foreign lands in search of a better life, many are forced to go due to the burden put on them to fulfil the entire family's financial needs. The drama Pardes is the story of every man who is working tirelessly without having to return to his loved ones at the end of the day.
Phenomenal Performances from the ensemble cast
Sarmad Khoosat is a treat to watch, every scene so meticulously flawless, he has embodied the role of a man truly and deeply in love with his family so well that our heart aches for the time when he will have to travel to the Middle-East in order to keep his mother happy while leaving the love of his life behind in Pakistan.
Bushra Ansari who already has us convinced that she is the mother -in-law from hell that we're all going to grow to hate with just one episode down. From calculating every last penny for the grocery to denying her grandchild a toy from her own father, she does not leave a single moment to exercise her power over the rest of the family.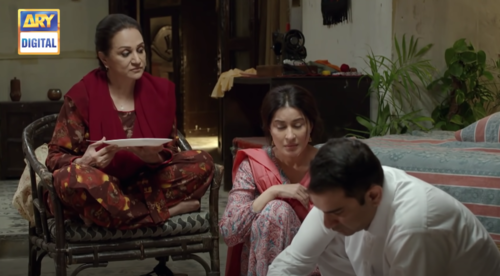 Sarmad Khoosat and Shahista Lodhi's chemistry is off the charts!
Sarmad Khoosat and Shahista Lodhi have returned to television after a brief hiatus, the two share a good rapport and great chemistry on-screen, while we watch them as the loving husband and wife who are as happy as can be even when they are not doing well financially, since all they need is each other.
Dur-e-Fishan Saleem is all set to enter the drama after the time jump and will be playing the role of Ahsan and Zubaida's daughter 'Aiman'. Viewers' are excited to see her after her recent blockbusters!
What's next?
Is it already trouble in paradise for Ahsan and Zubaida as Ahsan decides to finally move abroad for the betterment of his family?